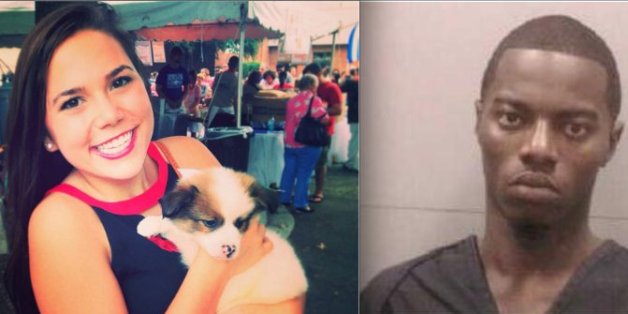 An 18-year-old University of South Carolina freshman struck by a stray bullet was recovering Wednesday, but is still unable to walk.
Martha Childress was waiting for a cab around 2:30 a.m. on Sunday near the college town of Five Points, when she was shot, according to police records obtained by HuffPost Crime.
The shooter, 20-year-old Michael Juan Smith, was allegedly in an argument with two men when he pulled out a gun. Smith fired twice, missing both of the men but unintentionally hitting Childress, WSPA reported.
Childress was hit in the right side of her ribcage. Several officers in the area heard the gunshots and arrested Smith, according to the report. The gun was stolen, authorities said.
'She Couldn't Feel Her Legs'
Her uncle, Jim Carpenter, told the paper his niece is paralyzed and will likely never walk again.
"She knew when she came out of surgery," Carpenter said. "She told her parents she couldn't feel her legs."
The shooter was arrested along with 17-year-old Ryan Ellison, a possible acquaintance, who faces a charge of disorderly conduct.
Columbia Police Department spokesperson Jennifer Timmons told HuffPost Crime that the teen appeared to be grossly intoxicated. In the report, officers said after Smith was arrested, Ellison became "loud and boisterous" and was using profane language.
On Monday, a tweet went out on Childress' Twitter thanking her supporters while a crowd of students and loved ones crowded a University of South Carolina field to hold a vigil for the teen.
Thanks to everyone who's kept me in their constant thoughts and prayers through this difficult time! The support means so much to me!
Timmons said the incident was caught on security cameras, and police are currently investigating the footage.
Smith faces five charges -- including assault and battery of a high and aggravated nature -- in the shooting.
"He's a bad guy," said 5th Circuit Solicitor Dan Johnson. "We intend to prosecute him vigorously."
Martha Childress, College Freshman, Shot and Paralyzed
SUBSCRIBE AND FOLLOW
Get top stories and blog posts emailed to me each day. Newsletters may offer personalized content or advertisements.
Learn more