A state university in Missouri is facing an outpouring of public outrage on social media in the wake of revelations that one of its students allegedly raped a girl more than a year before he enrolled at the school.
The Kansas City Star detailed in a lengthy article this week how Matthew Barnett, then a senior at Missouri's Maryville High School, initially faced charges of felony sexual assault and child endangerment, but had those charges dropped later by prosecutors.
Barnett, who is not currently facing any charges, now attends the University of Central Missouri. However, the Star's report and the Coleman family's subsequent media appearances have ignited an outpouring of indignation that the alleged perpetrator was not brought to trial, and part of that has been directed at the school.
After the Internet hacktivist collective Anonymous announced its intention to "get justice" in the case, people began barraging the school's social media accounts with angry posts accusing UCM of harboring a rapist.
One of the posts about the #OpMaryville Twitter-storm on pastebin, an online message board, encouraged people to tweet about Barnett's enrollment at UCMO:
Does everyone at University of Central Missouri know Matthew Barnett's story? Lets share it. #Maryville @UCMMULES @UCentralMo
The school's
Twitter account has replied
to some of the tweets with a statement:
.@jjs1978 UCM is required to allow qualified & eligible students to pursue an education. We are committed to safety http://t.co/wMlrRXRQOe

— UCM (@UCentralMO) October 14, 2013
.@panayiotab UCM is required to allow qualified/eligible students to pursue an education. We are committed to safety http://t.co/wMlrRXRQOe

— UCM (@UCentralMO) October 14, 2013
Outraged denizens of the Internet took to Facebook as well, posting one-star "reviews" of UCM and commenting on random photos displayed on the university's page: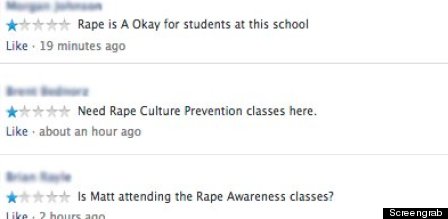 The university also replied to several Facebook posts as well, although many of those now appear to have been deleted.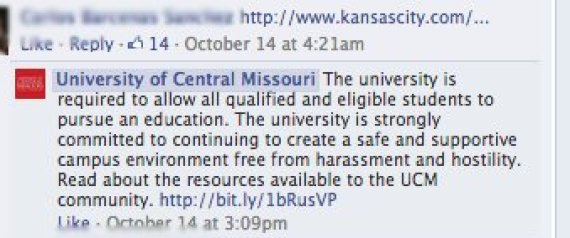 UCM declined to comment to HuffPost beyond a public statement released in response to the angry social media reaction:
An article that appeared in The Kansas City Star on Sunday, Oct. 13, has created strong reactions on social media with regard to an alleged sexual assault that took place in Maryville, Mo. Per the article, this incident occurred more than a year ago, and all charges against persons of interest were dropped.

The university is required to allow all qualified and eligible students to pursue an education. UCM continues to uphold the rights and responsibilities of all students and employees.

The university is strongly committed to continuing to create a safe and supportive campus environment free from harassment and hostility. Consistent with this goal, we are sharing a link to resources available to the UCM community to support a safe and healthy campus for our students and employees.
The Anonymous collective launched a similar effort against the men involved in the Steubenville, Ohio, rape case in the past year. Eventually, two of the young men were brought to trial and convicted.
One of the students involved in the Steubenville case, who was not implicated in the assault but joked about it in a video that surfaced online, eventually left his college due to the publicity of his connection to the case.
ALSO ON HUFFPOST:
'Surviving In Numbers': Stories Of Sexual Assault Survivors
SUBSCRIBE TO & FOLLOW LIFESTYLE
We're basically your best friend… with better taste. Learn more