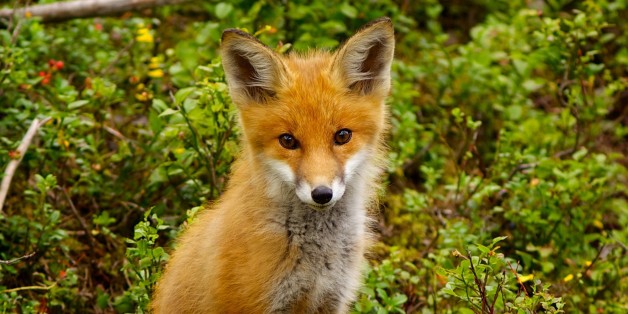 Washington has returned to its natural state during the shutdown.
No, really. The blog Obama Foodorama was the first to report that a fox, among other critters, has taken up residence in the First Lady's famous White House garden. Having been neglected by humans in recent weeks, it's gotten a whole lot more appealing for wildlife:
In the eleven days since the shutdown began on Oct. 1, the pounds and pounds of ripe organic bounty have gone to waste. The vegetables filling the 1,500 square-foot plot are now rotting away on the vines and in the boxed beds, thanks to the mandate for "minimal maintenance" placed on the skeletal crew of National Park Service gardeners who remain on duty at 1600 Penn.

The gardeners are not allowed to harvest the crops, a White House source told Obama Foodorama. Weeds are springing up everywhere, and the vegetables that have already fallen off the vines are now mouldering on the ground.

There are also mushrooms popping up inside and outside the garden beds, and leaf litter raining from the trees like confetti. The wildlife that lives on the historic 18-acre campus -- including a newly arrived fox now making a home at the White House -- are having a field day.
According to the blog, groundskeepers "have given up on their efforts to catch the elusive" fox, said to be frequently seen at dawn and dusk.
This isn't the first time a fox has invaded one of the three branches of the federal government. In 2002 a fox dashed into the U.S. Supreme Court on a Sunday, leading to a full-on fox hunt with "two American foxhounds and a border terrier," as well as traps and animal-control specialists. And in 2009 a pack of raccoons briefly drew attention after taking up residence on the White House grounds.
We've yet to see the White House's shutdown fox ourselves, and nary a photo of the high-reaching vulpes vulpes has emerged. So really, for all we know, this elusive beastie is actually the foxy-looking Rusty the red panda, who once escaped from the National Zoo, making another run for it. (Except maybe this time, instead of being in the mood for pizza, Rusty is hoping to meet with lawmakers about the blacked-out panda cam. But we digress.)
Readers: If you've seen the fox yourself, let us know about it. Better yet, send us a photo.
Now here's a photo of a fox at the Capitol, apparently pre-dating the shutdown:
And this is what the fox says/what's going to be stuck in your head all day long:
UPDATE, Oct. 17, 8:45 a.m.: The shutdown is over! And a reader emailed to tell us that he saw the fox at the White House six weeks ago -- about a month before the shutdown began.
I "was walking by just as it turned dark and he came right up to the fence," said Luke Copeland. "It was about 8 or 9pm. Another guy saw it at the same time as me and we just looked at each other in amazement!"
Copeland sent us a photo, too: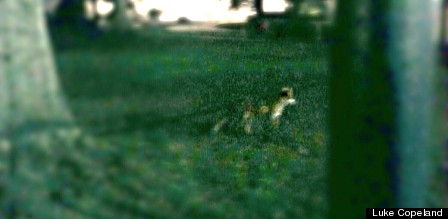 This early sighting gives hope that foxes are not only present, but tolerated on White House grounds even when furloughs aren't in effect. But just in case not: We The People is back online. Someone, start a petition!
Update, Oct. 17, 4:30 p.m.: Downtown D.C. is rich in foxes! Reader Kelly Fratino Miller sent us a photo of a fox she saw one recent morning while running on the National Mall: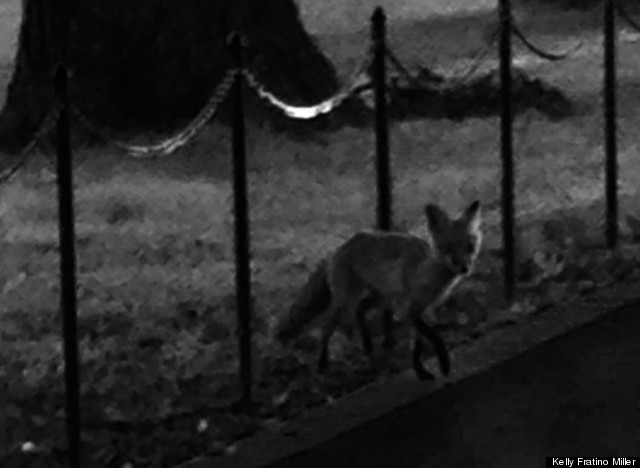 "I run on the Mall every morning and really enjoy all the wildlife down there," Miller said, explaining that the Lincoln Memorial was behind her as she ran on the south side of the Reflecting Pool "when I saw a small red animal headed to cross in front of me. Being from Connecticut, and familiar with wildlife, I knew it was a baby fox and stood still trying to get my camera out of black and white mode. The baby stopped and waited for a minute and when I stayed still he crossed the path about 10 feet in front of me, then proceeded to run through the field headed to the police stables."
"I couldn't get my phone out of black and white mode fast enough," she said, "but he or she was beautiful! I hope they leave them alone -– they are harmless."
Also on HuffPost:
Wild Animals Who Are Part Of The Family
SUBSCRIBE AND FOLLOW
Get top stories and blog posts emailed to me each day. Newsletters may offer personalized content or advertisements.
Learn more