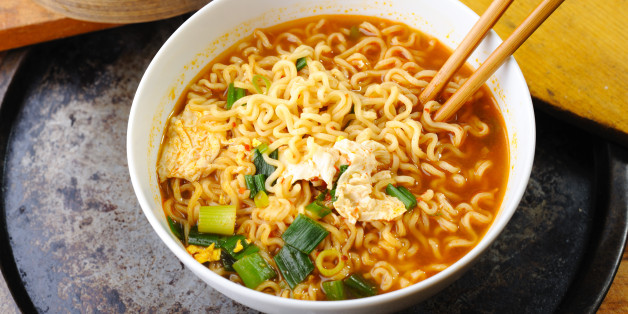 We've certainly hit the point in our lives around here where packaged ramen noodles are an occasional nostalgic indulgence and not a major dietary staple. But we did go to college once. And maybe one of us made it her personal mission to try every flavor of packaged ramen she came across. Okay, I am talking about me. For some reason, when it came to cheap, instant noodles that of course bear very little resemblance to miracle of real ramen, I always liked Maruchan best.
Maruchan (whose name kind of translates to "lovable round-headed kid"?) estimates that they produce 3.6 billion packages of ramen noodle soup a year. If you strung together all those noodles, they would stretch from Earth to Mars and back again. Seriously, their website says that. Like all things, there is a hierarchy when it comes to flavors. The best ramen flavor is salty but not too salty, complex but not too weird, umami-laden but not fake-tasting. For this ranking, I stuck to the ramen you can buy in a plastic package, and excluded ramen soup cups -- which, as an added bonus helps us avoid the cheddar and alfredo flavors. Which, yuck.
*As usual, this post was neither sponsored nor influenced by the brand mentioned. No amount of advertising money could produce love this nerdy.
Want to read more from HuffPost Taste? Follow us on Twitter, Facebook, Pinterest and Tumblr.
ALSO ON HUFFPOST:
PHOTO GALLERIES
Recipes Using Instant Ramen