A British newspaper is coming under fire after making the decision to publish a letter attacking lesbian, gay, bisexual and transgender (LGBT) individuals, printed under the headline "Take Heed, All Homosexual Sinners."
Published in The Whitstable Times, the letter itself reportedly quotes the Bible and implies that LGBT people have "brought evil upon themselves." It was submitted by an individual who refused to completely identify themselves, printed under the name "Mr. D. Bryson."
Check out the headline as it appeared below: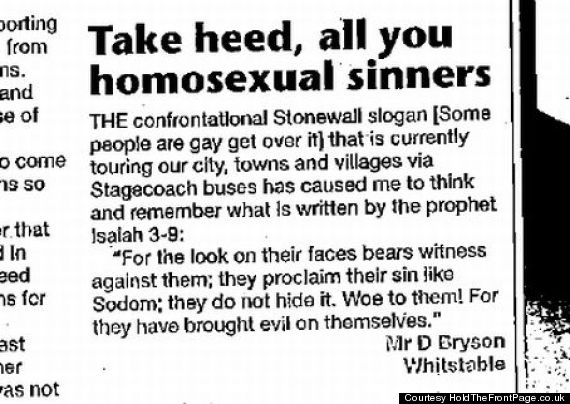 "The letters pages are a place for people to air their views," Editor Rebecca Smith told Hold the Front Page. "This letter did represent an extreme view and the headline summarized that view ... This letter has stimulated a debate and we will be publishing these views on the letters page."
The paper's Twitter was reportedly flooded with angry Tweets in response to the article's publication, as well as a number of letters responding to the author's claims, Queerty points out.
Following international backlash surrounding Bryson's claims, The Whitstable Times published a two-page spread of statements submitted by readers regarding their range of views on homosexuality and Christianity.
The backlash comes on the heels of The Daily Mail printing a false story about a transgender student in Colorado "harassing female students in the girls room." Despite the publication's removal of the story from their site, Fox News continues to cite the story as legitimate news within the station's continual war on transgender individuals.
What do you think about The Whitstable Times' decision to publish this letter?
(h/t Hold The Front Page)
ALSO ON HUFFPOST:
Dumbest Anti-Queer Statements