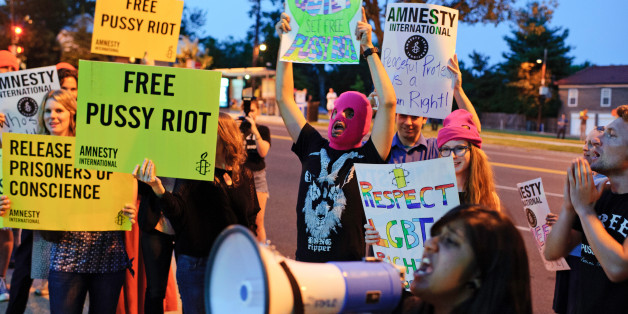 A member of punk Russian political protest group Pussy Riot announced their support today for a boycott of the 2014 Sochi Winter Olympics in wake of the country's violently repressive anti-gay laws.
Speaking to The Independent, Ekaterina Samutsevich, one of three members of the feminist collective imprisoned in Russia over a previous protest, reportedly views a protest of the Games as the most feasible response to the country's crackdown on lesbian, gay, bisexual and transgender (LGBT) citizens. Samutsevich, who is now the one of the three out of prison, told reporters:
I support the boycott because I do not think at this stage there is any other way to make our authorities see and understand because they keep ignoring the rights of their citizens... and at this stage there is no other way to affect change, because the authorities have taken hostage of the media, so perhaps this boycott can be a symbol of criticism being voiced.
Samutsevich also made the shocking claim that high-profile Russian athletes are facing immense pressure to publicly "adopt anti-gay views" and appear supportive of their country's institutionalized anti-LGBT sentiment. The musician specifically mentioned Russian pole vaulter Yelena Isinbayeva, who previously condemned homosexuality after competitors painted their fingernails rainbow in a statement of solidarity with LGBT Russians.
Pussy Riot moved into an international conversation surrounding the regulatory nature of Russian law when three members of the group were arrested and found guilty of "hooliganism" last year after performing a "punk prayer" at a catholic church. Since the incident, members of the collective have continued to remain outspokenly critical of the country's legislation.
Russia has come under fire from the international community over the past several months, beginning with elevated awareness surrounding the country's anti-gay "propaganda" law. The legislation not only enabled a culture of fear and violence for LGBT Russians, but paved the way for a proposed bill that could remove the children of LGBT parents from their homes.
The actions of Russian legislators have polarized popular opinion regarding the 2014 Sochi Winter Olympics, with high-profile individuals calling both for boycotts and opposing boycotting the Games in February. Some performers have been denied entry into the country and some have turned down opportunities to perform within Russia's borders. Others have claimed that the unique set of circumstances presents a responsibility for them to be a voice for LGBT Russians.
"It's a very difficult life for homosexuals in Russia," said Samutsevich to The Independent. "[This law] will make life for non-traditional sexual orientation just simply hell and there will [be] no protection because at the moment the only protection is the law, and this law has very abstract provisions."
PHOTO GALLERIES
Stars Sound Off On Russia's Anti-Gay Law