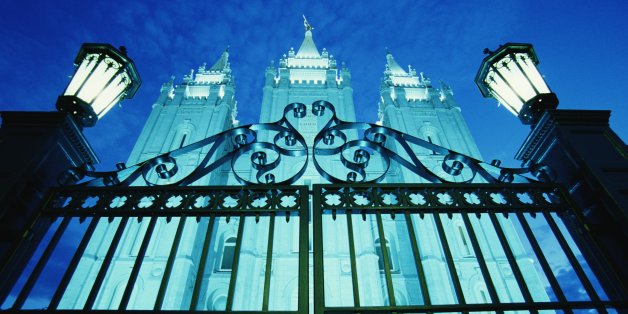 An atheist group is claiming that The Church of Jesus Christ of Latter-day Saints is ruining its Utah billboard campaign.
According to an article from The Salt Lake Tribune, the American Atheists struggled to find any Utah billboard companies willing to sell the group advertising space. (The group eventually secured one billboard space.)
A post on the American Atheists website describes the ad campaign as featuring "multiple billboards with local atheists (who happened to be former Mormons) talking about who they are."
An employee from local billboard company YESCO told the Tribune that the ad campaign "was deemed to be too controversial for our Salt Lake market."

One of the American Atheists' proposed billboard ad designs.
On Thursday, the American Atheists responded to the YESCO employee's statement by publishing the rejected ads online. The group also described its multiple attempts to make the ads less offensive: "Note that we even dropped the use of the word 'Mormon.' We didn't even say 'Christian,' just 'religious.'" These subsequent designs were still rejected by YESCO.
American Atheists says the response from advertisers is symptomatic of the Mormon church's power in the state. "What this really communicates to us is the stranglehold that the Mormon church has on the community in Utah," Dave Muscato, American Atheists public relations director, told the Tribune. "It reminds me of the Mafia in Italy. They don't even have to make threats. People just know that they're supposed to be afraid."
A Mormon church spokesman refuted these claims, telling The Huffington Post: "This group is trying to create controversy where there is none. These are decisions that clearly rest with advertisers and not with the church."

The billboards were meant to promote the American Atheists' upcoming 40th Annual National Convention in Salt Lake City, which will take place from April 17-20. In a Tribune article earlier this year, Atheists of Utah President Dan Ellis said the meeting would help draw attention to the "oppressive" power of the Mormon Church in the state.
American Atheists took on the Mormon church with an ad campaign that ran during the 2012 presidential election, targeting Republican candidate Mitt Romney's Mormon faith. The "Shame on Mormonism" ads criticized the Mormon church for alleged racist and homophobic policies. A truck displaying one of these billboards followed Romney while he campaigned in Florida.