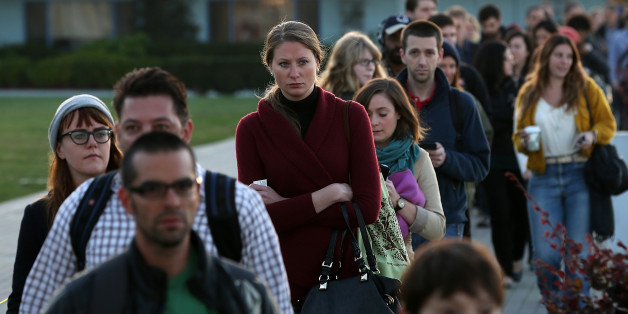 A transit nightmare for Bay Area commuters became a reality this morning when -- for the second time in four months -- workers for the region's largest transit system went on strike, leaving hundreds of thousands of commuters either stranded at home, braving unbearable traffic or lining up for spots on alternative transportation.
After six months of intermittent talks, Bay Area Rapid Transit and union officials failed to come to an agreement over economic, health care, pension and work rule issues, prompting workers to walk out Thursday at midnight.
The main contention was over union claims that BART wanted to change employees' fixed work schedules, assigning them to workers as it saw fit, the Associated Press reported. Employees work either four-day/10-hour shifts or five-day/eight-hour shifts.
BART carries approximately 400,000 riders every weekday, bringing employees into San Francisco from the city's eastern suburbs.
Commuters who can't afford to stay home are left with longer, pricier or more crowded alternatives, either driving through dense traffic or taking free charter buses provided by BART, AC transit buses or the San Francisco Bay Ferry.
Claiming a spot on alternative transit requires an early call time. Parking lots filled up at the San Francisco Bay Ferry terminals in Alameda before the sun rose and long lines of passengers began to form, the San Jose Mercury News reported.
"Because of the strike and taking the ferry, I have to leave so much earlier to get to San Francisco on time, long before my shift even starts," waitress Krsytal Soddersen of Oakland said.
All round-trip tickets on BART's free charter buses into San Francisco had been sold out by 7 a.m. the morning of the strike.
Some riders are sympathetic to the workers' need to strike.
"It's frustrating, but it's just like any union," BART commuter Liz Briody told the San Francisco Chronicle. "We have to take it one day at a time, and hopefully they'll reach a deal soon." During the last strike, Briody had to stay over at friends' apartments in San Francisco.
The St. Anthony Foundation, a San Francisco shelter relying on many volunteers from across the bay, made a call for help on social media to get upwards of 3,000 meals served.
"School groups who had scheduled volunteer shifts months before were left without a reasonable option to transport their students through a chaotic work day commute," the foundation said. "St. Anthony's has not missed a meal service for over six decades."

PHOTO GALLERIES
BART Strike October 2013