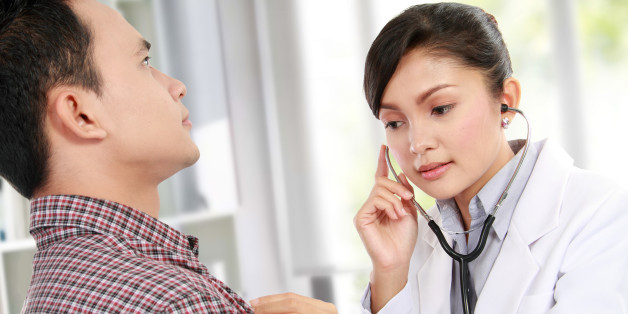 In the battle of the sexes, women may trump men when it comes to who makes better doctors, according to a new study.
Researchers from the University of Montreal found that quality of care is higher among female doctors than male doctors, based on analysis of billing information from doctors in Quebec, Canada, who treated elderly patients with diabetes. Researchers compared this information with diabetes treatment guidelines from the Canadian Diabetes Association.
"Women had significantly higher scores in terms of compliance with practice guidelines. They were more likely than men to prescribe recommended medications and to plan required examinations," study researcher Valérie Martel, who rsearched the subject as part of her master's thesis while studying in the Department of Health Administration.
The findings, which are published in the journal Revue d'Épidémiologie et de Santé Publique, involved analysis of billing information from 870 doctors; half were men and half were women. Researchers looked at the billing information to determine compliance with treatment guidelines from the Canadian Diabetes Association, such as making sure patients over age 65 had an eye exam every two years, receive three prescriptions for certain drugs, and receive annual doctor exams.
Seventy-five percent of female doctors required their patients to receive biennial eye exams, compared with 70 percent of male doctors, researchers found. And 71 percent of female doctors prescribed the three medications, compared with 67 percent of male doctors. Plus, 39 percent of female doctors guided their patients to receive an annual doctor exam, versus 33 percent of male doctors.
However, the researchers also found that productivity among male doctors was greater than female doctors, with 1,000 more procedures reported being done by male doctors than female doctors each year.
Interestingly, they found that age seemed to be a factor in the gender differences. The younger the doctors were, the less difference there was between male and female doctors.
"Our study lifts a corner of the veil on this issue and has several limitations. For example, it is not known whether medical prescriptions and recommendations for examinations are followed," study researcher Roxane Borges Da Silva, a professor at the university, said in a statement. "But the differences remain significant. They tell us about the differences in medical practice that need to be taken into account."
A 2008 study published in the Journal of the Royal Society of Medicine also showed that productivity among female doctors is lower than that of male doctors, with The Telegraph reporting that senior hospital doctors in the UK's NHS who were women saw about 160 fewer patients a year, compared with their male counterparts.
Forbes pointed out that research has shown women doctors spend more time with their patients -- as much as 10 percent more time than male doctors -- and that patients may be more likely to have a back-and-forth discourse with female doctors than male doctors. Why is this a good thing? Forbes explains:
But what's really interesting is that patients respond differently to women in white coats than they do to men. Both female and male patients are more assertive with female doctors. They interrupt more, and they ask more questions.

And patients who are more involved in their own care may stay healthier. They're less likely to be the victim of medical error. They're more able to question the information they might find online or in drug company advertisements. They may be more likely to call their doctor and question certain symptoms or diagnoses.
However, there still exists a gender wage gap in medicine, just as there exists in other sectors. A 2012 study showed that women physician-scientists make less than male physician-scientists, with men earning $12,000 or more a year than women on average each year, the Associated Press reported.