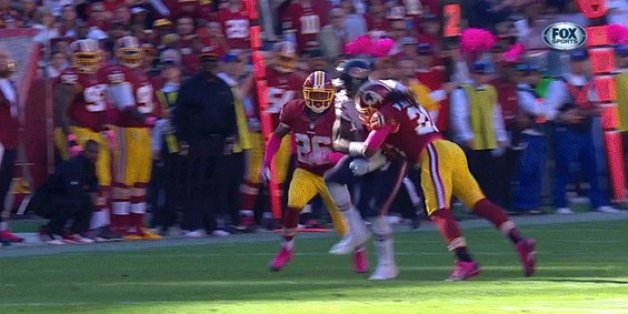 Fox
Brandon Meriweather still doesn't play by the rules regarding illegal hits and it nearly cost Washington against Chicago on Sunday.
With Washington leading 31-24 late in the third quarter, Chicago's backup quarterback Josh McCown found Alshon Jeffery for a 28-yard catch. The play ended with Meriweather charging in on Jeffery, launching himself and nailing him with a brutal helmet-to-helmet hit. A personal foul was called, putting Chicago at Washington's 28-yard line. The Bears scored four plays later to tie the game. Fortunately, Jeffery was able to stay in the game.
The Bears capitalized on another illegal hit by Meriweather in the fourth quarter when he lead with his helmet and hit a defenseless Brandon Marshall in the end zone late. Both appeared to be shaken up after the incompletion and a personal foul was called. Chicago scored on the next play to take the lead, 41-38.
Meriweather seems to know he's due to get a phone call from the NFL office this week.
#Redskins' Meriweather, knowing he's going to get fined for 2 helmet-to-helmet hits, was soliciting teammates for money in locker room.
Meriweather (with a smile): "Anybody else want to chip in on my dinner? I can't afford it right now."

— Joseph White Jr. (@JGWhiteAP) October 20, 2013
FOLLOW HUFFPOST