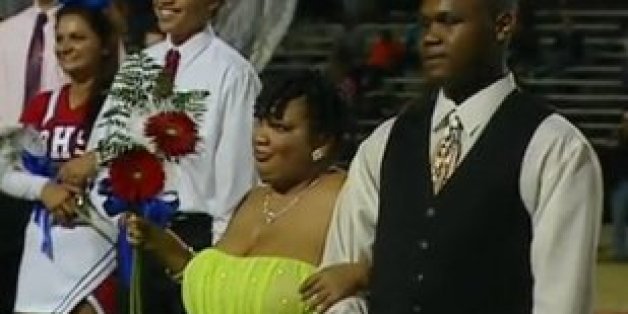 A Kentucky high school student with special needs who was recently crowned homecoming queen died suddenly over the weekend, prompting an outpouring of love and support from her peers and teachers.
Jamesha Beard was a senior at Butler Traditional High School in Louisville. Born prematurely with Goldenhar syndrome, a rare congenital condition causing abnormal development of the face and spine, Beard was a beloved member of the Butler community.
"She was pretty special," Dawn Foley, the department chair of Butler's Exceptional Child Education program, told The Huffington Post.
On Sept. 27, Beard's fellow students voted her the school's homecoming queen, and an elated Beard attended the ceremony in a beautiful yellow gown, her favorite color, reports local station WHAS11.
And so it seemed fitting that, as word of her sudden death spread through the Butler community over the weekend and on Monday, students decided to pay tribute to their friend by wearing yellow, Foley told HuffPost.
RIP pretty girl. You'll be missed by many💛 #ripJamesha pic.twitter.com/73gUuX4lMs

— Ashley Bryant (@Big_Ash3) October 21, 2013
Wear yellow for Jamesha!! #RIPJamesha

— Shannon™ (@shannanigans815) October 21, 2013
If you are a peer tutor or hell, even go to Butler then you better be wearing something yellow tomorrow. #ripJamesha

— Tracey Mitchell (@tmmitchell13) October 21, 2013
"They all had something yellow on," Foley said of the student body's reaction on Monday to Beard's death.
The school's principal, William Allen, is allowing the tribute to continue on Tuesday for those who didn't hear the news in time.
"We're very into inclusion here," Foley noted. "The kids with special needs are just the heart and soul of this school."
According to WASH11 reporter Rachel Platt (who had been reporting on Beard for some time), the school's cafeteria was awash in yellow on Monday, with shorts, bows and ribbons laid out as a testament to the student's impact on the Butler community.