McDonald's announced Monday that it raked in $1.5 billion in profits in the third quarter, up 5 percent from last year.
The number is strikingly close to the $1.2 billion taxpayers are shelling out each year to help pay public assistance to the McDonald's workforce, according to a report released last week by the National Employment Law Project.
The echoing numbers are simply a coincidence, but underscore the immense profits that the chain continues to pull in while its workers simply struggle to afford food, medical help and housing. The public assistance McDonald's workers receive comes via food stamps, welfare, Medicaid and other federal programs, according to the NELP report.
In a statement to The Huffington Post, McDonald's emphasized that workers get training and the opportunity for career advancement. The company also said that its franchisees pay competitive wages that are based on "local wage laws."
Those wages are stunningly low. Frontline fast-food workers make a median wage of $8.94 an hour, according to a recent Reuters report. "Fast-food workers work only 24 hours a week on average — at $8.94 an hour, this adds up to barely $11,000 a year," wrote Christine Owens for Reuters in August.
With wages that low, front-line fast food workers are more than twice as likely as the typical worker to participate in a government assistance program, according to the NELP report: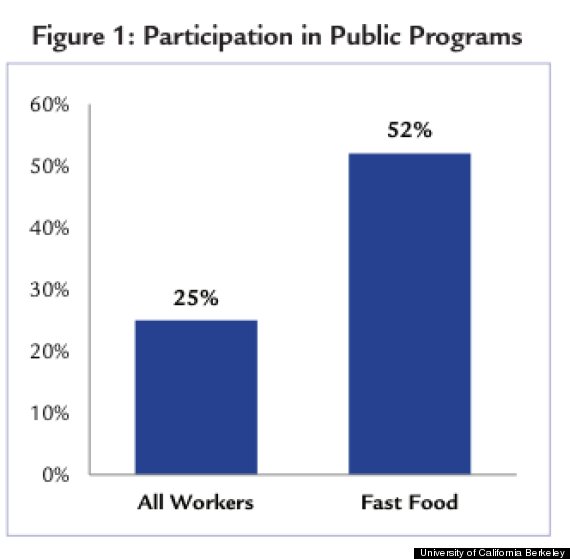 The National Restaurant Association, an industry trade group, last week labeled the NELP report, and the data on which it was based, "misleading," since they "fail to recognize that the majority of lower-wage employees works part-time to supplement a family income."
There's ample evidence that an increasing number of workers primarily rely on fast-food wages. Roughly one-quarter of fast-food workers are raising a child, and approximately 70 percent are adults between the ages of 20 and 64, according to the left-leaning Center for Economic and Policy Research.
While there's been a dearth of so-called middle-class jobs since the recession ended, the fast food industry's been hiring. Since the recession ended, almost 70 percent of all jobs created have been in historically low-wage sectors like fast food.
Defenders of the fast food industry point out that many chains heavily rely on franchisees working on small margins to turn a profit, which makes any potential wage increase difficult.
But altogether, the fast food industry is annually costing American taxpayers nearly $7 billion, while taking in hundreds of billions year after year:

Infographic by Alissa Scheller for the Huffington Post
McDonald's attributed its growing profit to a U.S. Monopoly promotion and recent successes in the U.K. and Russia, according to the AP.
Also on HuffPost:
Loading Slideshow
Dr. Evil and Lloyd Blankfein

Dr. Evil from <em>Austin Powers</em>, played by Mike Meyers, and Goldman Sachs CEO Lloyd Blankfein.

Alistair Hennessey and Vikram Pandit

Alistair Hennessey from <em>The Life Aquatic with Steve Zissou</em>, played by Jeff Goldblum, and former Citigroup CEO Vikram Pandit.

Emperor Palpatine and Rupert Murdoch

Emperor Palpatine from <em>Star Wars</em>, played by Ian McDiarmid, and News Corp. CEO Rupert Murdoch.

Nurse Ratched and Meg Whitman

Nurse Ratched from <em>One Flew Over The Cuckoo's Nest</em>, played by Louise Fletcher, and Hewlett Packard CEO Meg Whitman.

Ashley Schaeffer and Richard Branson

Ashley Schaeffer from HBO's <em>Eastbound and Down</em>, played by Will Ferrell, and Virgin CEO Richard Branson.

Lex Luther and Jeff Bezos

Lex Luthor from <em>Superman Returns</em>, played by Kevin Spacey, and Amazon CEO Jeff Bezos.

Regina George and Marissa Mayer

Regina George from <em>Mean Girls</em>, played by Rachel McAdams, and Yahoo CEO Marissa Mayer.

White Witch and Abigail Johnson

The White Witch from <em>The Chronicles of Narnia</em>, played by Tilda Swinton, and Fidelity Investments CEO Abigail Johnson.

Ty Moncrief and Mike Jeffries

Ty Moncrief from <em>Drop Zone</em>, played by Gary Busey, and Abercrombie and Fitch CEO Mike Jeffries.

Emperor Commodus and Larry Page

Emperor Commodus from <em>Gladiator</em>, played by Joaquin Phoenix, and Google CEO Larry Page.

Goldfinger and Jeff Immelt

James Bond villain Goldfinger from <em>Goldfinger</em>, played by Gert Fröbe, and General Electric CEO Jeffrey Immelt.

Daniel Plainview and Reed Hastings

Daniel Plainview from <em>There Will Be Blood</em>, played by Daniel Day-Lewis, and Netflix CEO Reed Hastings.

Boris Badenov and Carlos Slim

Boris Badenov from <em>Rocky and Bulwinkle</em>, voiced by Paul Frees for much of the show's run, and Telmex CEO Carlos Slim.

Stuntman Mike and Brian Moynihan

Stuntman Mike from <em>Deathproof</em>, played by Kurt Russell, and Bank of America CEO Brian Moynihan.

Count Rugen and Larry Ellison

Count Rugen from <em>The Princess Bride</em>, played by Christopher Guest, and Oracle CEO Larry Ellison.

The Boss and Kenneth Chennault

The Boss from <em>Lucky Number Slevin</em>, played by Morgan Freeman, and American Express CEO Kenneth Chennault

Henry Evans and Mark Zuckerberg

Henry Evans from <em>The Good Son</em>, played by Macaulay Culkin, and Facebook CEO Mark Zuckerberg.

The Donald and Donald Trump

Chairman of the Trump Organization Donald Trump and Donald Trump from <em>The Apprentice</em>.