Two men in England have been arrested after a smoke bomb was thrown from the stands in the middle of a soccer match, hitting a referee.
Video of the incident, provided by Sky Sports, shows a stadium packed with cheering fans Sunday. Reports The Telegraph, at 31 minutes into the match between Tottenham Hotspur and Aston Villa, rowdy fans in the middle of the Tottenham section flung the smoke bomb, which hit assistant referee David Bryan in the back of the neck.
(Story continues below.)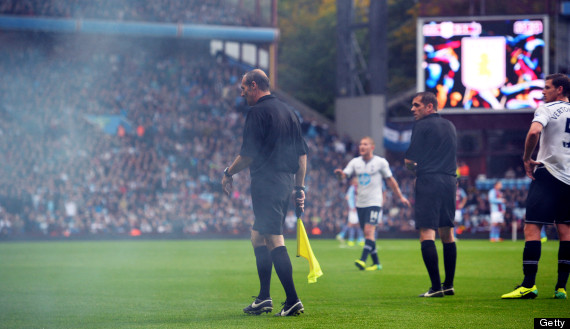 A referee steps onto the field after getting hit by a smoke bomb thrown after Tottenham scored a goal during the English Premier League football match at Villa Park in Birmingham on Oct. 20, 2013.
After suffering a direct hit, the understandably startled ref panicked, briefly bolting off the sidelines and into the field.
Per the Daily Mail, the Football Association has labeled the incident "unacceptable" and pledged to investigate. Fortunately, Bryan was uninjured and able to ref the rest of the game.
At least the fans didn't storm the field and steal his shirt.
WATCH the incident, above.