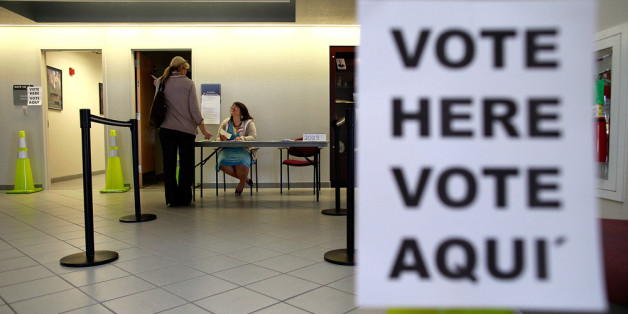 A controversial law requiring Texas voters to present photo identification in order to cast a ballot officially went into effect Monday, as early voting began in the state for the Nov. 5 elections.
In order to cast a ballot, voters will have to present one of the following photo IDs: a Texas driver's license, a Texas personal ID card, a Texas concealed handgun license, a U.S. military ID card, a U.S. citizenship certificate, or a U.S. passport. Those who don't have one of the documents but can prove their citizenship must request one of the new Texas Election Identification Certificates created to facilitate the voter ID law.
Not many people have done so. As of last week, the state had only issued 41 of the of the new certificates, according to the Dallas Morning News. That's a tiny fraction of the estimated 1.4 million eligible voters without a photo ID across the state.
Critics of laws like the one that went into effect in Texas on Monday say new voter ID measures amount to a conservative tactic to suppress votes from minorities, poor people and youths -- all of whom tend to vote Democratic.
"I am compelled to point out that voter fraud is a solution in search of a problem," Texas Monthly senior editor Paul Burka wrote in a blog post last week. "Except for rare incidents, such as those involving ACORN a few years back, voter fraud is next to nonexistent."
Nevertheless, Republican attorney general candidate Dan Branch vowed last week to create a Voter Fraud Task Force if elected.
The Mexican American Legislative Caucus and the National Association for the for the Advancement of Colored People filed a lawsuit against the Texas voter ID in September.
Others have said the law may make it harder for women to make it to the polls, since many women don't update their ID's after getting married and taking their spouses names. Only 66 percent of women of voting age have access to proof of citizenship with their legal name, according to a national survey by the Bennan Center for Justice at NYU Law school.
The Justice Department argued that the law violated the Voting Rights Act because of its potential effects on minority voters. The courts prevented the law from taking effect, but it moved forward in June after the Supreme Court struck down section 4 of the Voting Rights Act, which required states to seek prior authorization before changing their electoral laws.
9 Latinos Who Have Played Famous Latinos