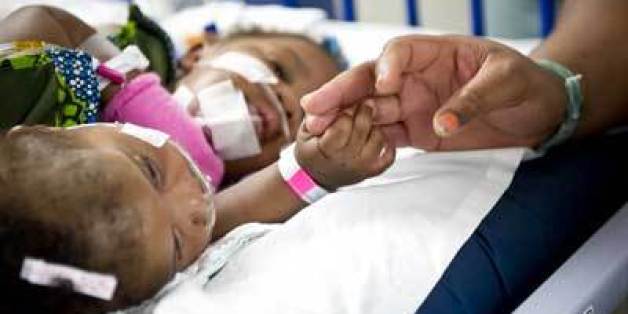 One of the formerly conjoined twins from Franklin who were separated by doctors at VCU Medical Center has died.
A'zhari Lawrence died Monday, according to a statement VCU Medical Center released Friday.
"Her sister, A'zhiah, is in good condition at Children's Hospital of Richmond at VCU. There is no more information available at this time as we respect the family's wish for privacy. We are all deeply saddened by A'zhari's passing and our thoughts are with her family," the statement said.
Hospital officials would not provide additional information on the death.
A'zhari and A'zhiah, daughters of Nachell Jones and Carlos Lawrence, were born connected from the chest to abdomen at VCU on Oct. 10, 2012. The twins previously went by the last name Jones.
Doctors separated the girls in an unusual two-stage surgery. Their livers were separated about two weeks after they were born because their condition was deteriorating, but doctors held off doing more surgery to give them time to grow and become stronger. The separation was completed in April.
Each girl was born with a complete set of organs.
In an interview earlier this year, Jones said she was 12 weeks pregnant when she learned she was carrying twins. After an initial ultrasound showed the babies were conjoined, she had a follow-up ultrasound and was then referred to a high-risk pregnancy specialist.
Dr. David Lanning, surgeon-in-chief at the Children's Hospital of Richmond at VCU, led the surgical team of car diothoracic surgeon James Gangemi, plastic surgeon Jennifer L. Rhodes, cardiologists William B. Moskowitz and Douglas R. Allen, additional cardiologists, anesthesiologists, neonatologists, neonatology nurses and many others.
The Lawrence girls were the second set of conjoined twins VCU doctors operated on. Maria and Teresa Tapia of the Dominican Republic were separated by VCU doctors in a daylong surgery in November 2011. The health system is running a television commercial featuring the Tapia twins.
The Lawrence babies, born at VCU at 36 weeks, together weighed 10 pounds, their mother said in April. At six months, after the girls tripled in size, the second surgery was scheduled.
According to an obituary published on TidewaterNews.com, the funeral service for A'zhari is 11 a.m. today at New Mount Zion Baptist Church, 415 Stonewall St. in Franklin. ___
PHOTO GALLERIES
A'zhari And A'zhiah Lawrence