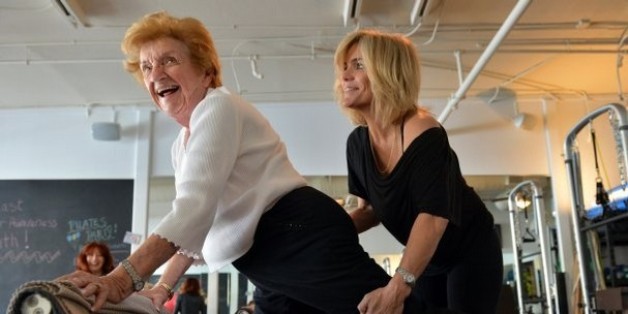 Everything fell into place except for the happy ending.
June Glasmeier, an 87-year-old Thousand Oaks resident with red hair and a one-track mind, knows about financial scams that victimize seniors.
A year ago, a man in a parking lot offered to fix her dinged Cadillac for $220 while she shopped for groceries. Then he wanted her to take him to an ATM.
The scam went awry only because she didn't have a debit card.
"Basically, it all comes down to money," she said. "We're targets."
Glasmeier, who serves on several boards and takes Pilates class two days a week, doesn't like seeing a bull's-eye on anyone's back. She decided to do something.
"She's one of those people who are tenacious," said Victoria Jump, director of the Ventura County Area Agency on Aging, where Glasmeier serves on an advisory council. "She works toward a solution and she doesn't take the word 'no.' "
She decided to tackle financial transactions: escrows, power of attorney, wills, and any other transaction that must be notarized.
Working with retired school principal Larry Hartmann, of Ojai, she wrote a proposed law that would make notaries mandated reporters of elder financial abuse. If they witnessed someone being taken advantage of or a fraud being perpetrated, they would have to act.
"All I'm asking them to do is make a call to adult protective services or police if there's any suspicion," Glasmeier said.
The proposal was driven by personal experience. Her second husband, Paul Glasmeier, suffered from mild dementia and a variety of physical ailments that hampered him the last 10 years of their 31-year marriage.
About two years before he died at age 83, he met to sign financial documents with family members. A notary public was there. The relatives were there. Everyone was there except for June Glasmeier, she said.
The document he signed stripped his wife of her power of attorney.
"I didn't feel like his wife. I had no control, no power. I couldn't take care of him," said Glasmeier, who fought to regain the power and won.
Whatever the reasons of the family members, Glasmeier thinks the notary public should have said something. He should have known someone was missing.
"I think it should have run through his mind, 'Where's June?' " she said. "... He should have realized something was wrong."
She brought the proposed law to the California Senior Legislature, the group modeled on the real Legislature and designed to advocate for seniors' rights. Glasmeier has served as an assembly member for 11 years. Hartmann serves as senator and has partnered with Glasmeier on other proposals designed to protect the elderly.
Each year, members of the senior legislature review all the proposals and prioritize them. They take the top 10 and try to advance them in the state Legislature.
The notary public proposal didn't make the cut. It ranked 16th.
But first-term state Assemblyman Ed Chau was intrigued. He's a Democrat from Monterey Park who was a notary public and a lawyer whose case load included real estate deed forgery cases in which elderly people were victimized.
"The notary public could be the first and sometimes the last line of defense," he said. "... There's no stopping June. When she brought up the idea, I was sold on it."
Chau introduced the bill in the Assembly. Glasmeier testified before three committees, telling her husband's story but focusing more on the need to protect seniors.
"She really kept after this bill," said Mel Silberberg, a retiree from Thousand Oaks who serves with Glasmeier on the Area Agency of Aging Advisory Council. "Regardless of their standing in the community, (seniors) are targets of the cruel, of the greedy people who want to cash in."
The bill was debated in committees and by opponents like PJ Garcia, a leader of the Escrow Institute of California and a notary public. She argued the bill carried a fine of as much as $5,000 and requires notaries make judgments on people they barely know.
"I spend five to 10 minutes with them gathering their identification," Garcia said of her work as a notary. "It's strictly an administerial function."
But after several amendments, the bill passed, first the Senate and then the Assembly. Glasmeier celebrated by pumping her fist in the air.
"I'll be thrilled," she said, speculating on what it would feel like to have the proposal become law. "I will have left my footprint."
But Gov. Jerry Brown stopped the celebration. He vetoed the bill Oct. 9, saying notaries often have no more than fleeting contact with their clients. He suggested notaries would be better reached through programs that educate them on elder abuse.
The veto hurt. It felt like 18 months of effort was wasted. But if the bill is reintroduced, Glasmeier will work for it again.
She's also pushing another proposed law. This one is a federal effort aimed at making it harder for a family member to scam the government by receiving a deceased parent's Social Security benefits.
The legislation is different. The motive is the same.
"I think life is difficult under the best of circumstances," she said. "When I detect a man-made problem, I want to correct it. I want to fix it."
And if history repeats itself and the proposal falls just short of becoming law, Glasmeier will dust herself off and try again.
"You don't accomplish anything if you give up," she said. ___
ALSO ON HUFFPOST:
PHOTO GALLERIES
8 Amazing Videos of Everyday Folks Turned Unsung Heroes