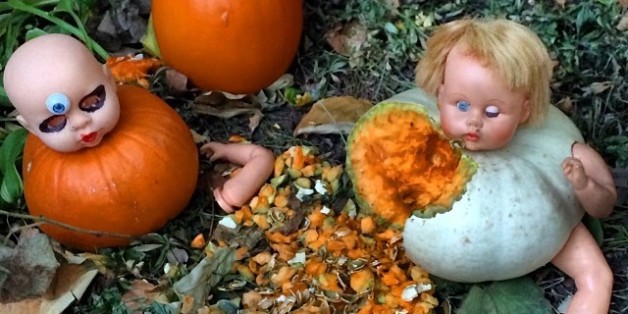 A macabre Halloween display outside a Brooklyn brownstone is turning heads, and upsetting some neighbors. The grisly scene, in the front yard of homeowners Joyce Draganosky and Laureen Callo, features dolls hanging from trees, a doll on an operating table, and dolls stuffed into jars like lab specimens.
"This is sick," local resident Valerie Bell told ABC of the exhibit, located on Bergen Street in Boerum Hill. "Only sick people would think to do something like this."
Gothamist reports one woman passerby even shielded her children's eyes.
Others, however, just see it all in keeping with the holiday spirit. "It's Halloween," resident Meg Allan Cole told CBS. "It's supposed to be scary."
Draganosky, 52, who is a filmmaker, told the New York Post that if neighbors complain to her about the decorations that she would definitely adjust it. "Every year the neighbors look forward to it," she said. "The kids say, 'More gore! More blood!' This is my neighborhood. I'm not going to hurt kids."
In past years, Draganosky and Callo have made other elaborate Halloween displays, which have included vomiting pumpkins, a cannibalistic jack-o-lantern chef, a Bates Motel-themed yard, and a pumpkin version of Carrie.
[VIA Brokelyn]