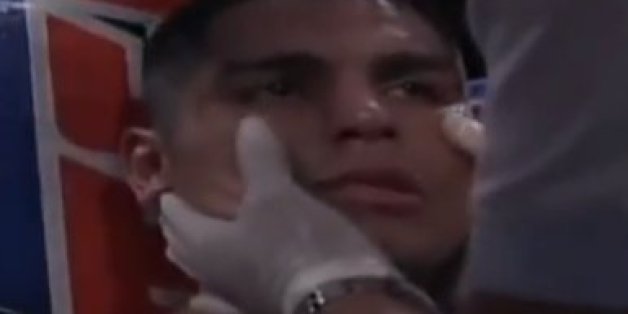 Mexican boxer Francisco "Frankie" Leal died of brain trauma Tuesday, three days after being knocked out by countryman Raul Hirales in Cabo San Lucas.
Leal, 26, had a wife and son. A fund-raising campaign has been set up for the family on GoFundMe.
In a broadcast of the junior featherweight bout, posted on YouTube, Hirales floors Leal with two right hands to the back of his head in the eighth round. As the referee counts him out, Leal struggles to get up, then slips back to the ground. A ring doctor can be seen trying to get Leal to open his eyes and focus before he is taken out on a stretcher.
WARNING - GRAPHIC VIDEO BELOW
According to ESPN, Leal lapsed into a coma and was taken to a local hospital before being transferred to a hospital in San Diego where he passed away from brain injuries.
The sports network noted there is controversy over whether Leal was fit to fight. In March 2012, he was carted away on a stretcher and hospitalized after being knocked out by Evgeny Gradovich, of Russia.
Fightnews.com quoted Bruce Trampler, a well-known promoter, as saying, "This is so wrong. I thought Leal was going to die the night he fought Gradovich, but he kept going and going until this."
After the fight with Gradovich, Leal won two of his next three fights before his fatal bout.
He had a 20-8-3 record, losing by knockout five times. He fought for the world title in 2009 against Celestino Caballero and retired in the eighth round.
According to research published in 2010 by University of California, San Diego, Department of Neurosurgery, there were 339 professional boxing head-injury fatalities between 1950 and 2007.
WATCH footage from Leal's last fight. The setup and knockout sequence begin at about the 38:00 mark.

SUBSCRIBE TO & FOLLOW THE MORNING EMAIL
Start your workday the right way with the news that matters most. Learn more