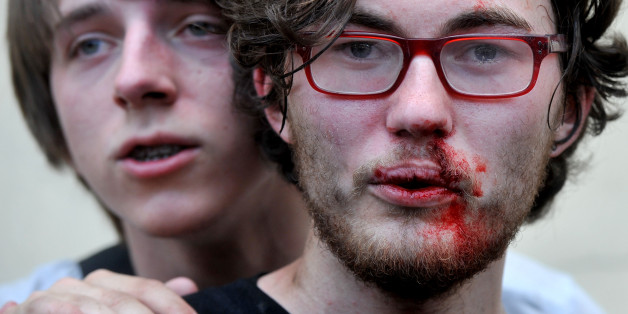 Brian Camenker, President of right-wing organization MassResistance, sat down with Mission America's Linda Harvey last weekend to discuss a recent article he published regarding athletes and gay rights activism in Russia.
The "exclusive" report claims that "homosexual activists in the U.S. are working with media groups, 'out LGBT athletes' and both the U.S. and Canadian Olympic hockey teams in a secret plan to smuggle rainbow flags, homosexual propaganda, etc. into Russia."
And Camenker is not having it.
Despite the multiple incidents of violence experienced by lesbian, gay, bisexual and transgender (LGBT) Russians and the high-visibility public acts of humiliation and private acts of torture, Camenker claims that there is no "logical" connection between these events and the country's anti-gay legislation. However, that doesn't mean he doesn't think the violence isn't taking place.
Rather, it's the LGBT people's fault.
"Well, it's hard to say," Camenker states in the audio clip below. "I would say that a lot of it is probably true. The natural way people react to homosexuality — outside of all the diversity training — is a certain amount of revulsion. So if two men start kissing in the public street, you can expect a certain reaction from people."
Camenker then goes on to compare the violence committed by anti-LGBT Russians to the efforts of pro-LGBT activists in the United States. He continues,
"It's sort of interesting, apparently in Russia you get away with [violence, beating people up] but here it is just exactly the opposite -- the homosexuals can disrupt churches, they can disrupt anything, they can do all kinds of horrible things in public as they've done at events where I've been and nothing happens."
Camenker has previously come under fire for a slew of anti-gay statements, including comparing LGBT advocates in schools to Nazi camp guards. His organization MassResitance has also previously stated that same-sex kissing in Moscow provoked brutal attacks on LGBT individuals, as well as publicly celebrating foreign legislation that punishes and criminalizes same-sex relationships.
(h/t Right Wing Watch)
ALSO ON HUFFPOST:
PHOTO GALLERIES
Stars Sound Off On Russia's Anti-Gay Law