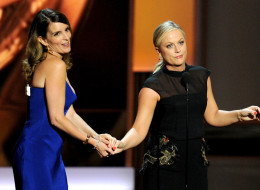 Tina Fey and Amy Poehler are reportedly set to make bank as next year's Golden Globes hosts, though just how much is the source of some debate.
Earlier this week, RadarOnline.com reported that Fey and Poehler will each earn between $2 and $5 million to host the awards show, quoting a source who said the pair will make "more than any Oscar host in history with the exception of Billy Crystal," who reportedly brought in $5 million for his turn at the lectern.
After the news of the seven-figure paycheck made the rounds, however, representatives for Fey and Poehler released a statement to Vanity Fair saying that "the dollar figure that Radar has printed is grossly exaggerated." VF went on to report that the paycheck for the show for each actress is likely in "the low six figures."
Regardless of a specific dollar figure, everyone seems exicted that Fey and Poehler signed a deal with the Hollywood Foreign Press Association to host the Golden Globes in 2014 and 2015.
"It's wonderful news," Hollywood Foreign Press Association's president Theo Kingma said at the time of the announcement. "They have always been our first choice as hosts and we're delighted they are back for the next two years."
For the original report, head to RadarOnline.com.