In case you weren't aware, Halloween is just one week away. Many of us have our costumes already... but there are those who aren't "costume people," for whom the thought of dressing up is scarier than a haunted house.
While many of us are hardcore Halloween fans, others would prefer not to celebrate the frightfully fun day.But instead of staying home on October 31, why not go out in a cute outfit that you can wear once the festivities are over? Your ensemble may not be the most clever or witty at the costume party, but the girl who went as sexy Ariel will have a hard time getting multiple uses out of her purple seashell bra top.
To help you on your way, we've put together a fashionable outfit that is Halloween-themed without being too obvious, that you can also wear year-round. Bonus: Every item here is under $100.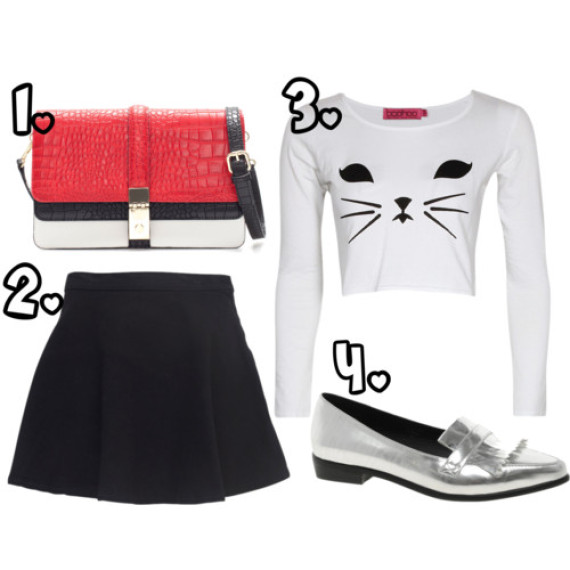 1. Crocodile City Bag With Three Compartments, $72 2. Motel Kadie High Waist Skater Skirt in Black, $31; 3. Cassie Cat Long Sleeve Crop Top, $20; 4. ASOS Mandem Pointed Flat Shoes, $62
Would you rather dress up like this?
The Most Inappropriate Halloween Costumes Of All Time (CLONED)
On second thought, maybe they should cut funding to PBS.

The hat that says "Winner gets a free ride" is pretty much the worst.

Is it still a "slip" if you do it on purpose?

At least he's promoting safe sex.

Yeah... This could get awkward.

Now you can make people uncomfortable all night long.

Because eating disorders are meant to be portrayed as sexy and hilarious, right?

Word to the wise: make sure you take your penis costume for a trial run at the local library before hitting the sidewalk.

At least he knows what he is.

Feeling lucky?

Facial expression not included.

When you're wearing a sexy costume to a Halloween party, it's probably a good idea to stay away from sedatives and not bring your own restraints.

It's not surprising that this one's on clearance for $7.99.

We sort of feel like this guy wasn't looking for cats.

Don't worry, there are more dirty puns where that came from.

As long as there's no copay.

If you wear this, it's the closest you'll come to seeing one that night.

Why is the blacked-out tooth part of it?

Make sure you include the hand gestures so you get the point across that you're a complete douche.

Ladies?

Dressing up as a heartbroken clown has never been ... sexier?

Pocahantas didn't even dress this sexy.

For a con, he looks pretty pleased with himself.

No more beer for this guy.

Looking like sh*t has never been so cute.

Of all the costumes that scream "I have a penis!" this has got to be the most frightening.

Would you take a shot with this guy?

We don't even want to know what his superpowers are.

For those mischief-makers who enjoy holding plastic props to their bodies all night long.

EEEEWWWWWW.

Just in case you wanted to dress up as "WTF" this Halloween.

Nothing says class like wearing a circus tent on your crotch. (Thanks for the tip, Karen!)

The commercial version is so much more disturbing than the homemade version.

Steady blood flow, meet steady alcohol flow.

He has low self-esteem.

Now your roommates know why you've been practicing your birth face in the mirror for so long.

Wine in a box continues its tradition of being the least romantic thing ever.

Real subtle.

Dild'oh!

These guys must really, really love each other.

In case anyone was wondering why Spencer's Gifts was sold out of mock penises this year.

We feel like this is going to end in some shaking accidents later in the night.

Halloween couldn't be complete this year without a good old-fashioned Human Centipede costume.

A feminist twist on the ubiquitous vagina-head costume worn by frat boys everywhere.

WHY?

When you decide to pull off an extremely creepy costume, it's best to let your attitude match it. Yeah, it's a dead baby but she's cool with it.

Let's see the St. Pauly Girl do this.

More like Alad-don't.

We've seen homemade Hitler costumes before (which are also ridiculous) but this commercial version just blows us away.

Sometimes, knocking over every beer in front of you is a necessary sacrifice for the perfect sexual innuendo costume.

We're not quite sure what these are...but we have a feeling they're NSFW.

It's getting hard to imagine a non-penis-related costume at this point.

She's right to throw her hands up like that.

Hopefully he won't find any used band-aids in there.

This one will be useful for all the TPing later.

Is it more degrading to wear this ridiculous shirt with boobs attached, or to just wear a wet T-shirt and risk getting on "Girls Gone Wild?"

There are some things that just should never be made into a "sexy" Halloween costume. Cookie Monster is definitely one of them.

Maybe they're actually dressing up as this Onion article: "It's Nice We Can Finally Look Back On That Whole Oil Spill And Laugh."

Dreams really do come true!

This will forever be too soon.

We wonder how many white frat boys will put on this cartoonish representation of a Rasta? At least the squishy headpiece will soften the blows they will undoubtedly receive.

Thanks for ruining unicorns for everyone.

Unlock the key to her ... stomach vagina?

Thanks for ruining childhood game night.

For when you want to make everyone think about touching your junk AND bestiality for the entire night.

You know a costume is bad when you have to repeat a pun just for anyone to get it. (Thanks for the tip, Jay!)

This description speaks for itself (full of typos): "Although she doesnt have much of a personality, she is still drop dead gorgeous in this body bag dress, Im sure you have the personality and in this you will be gorgeous. Stretch satin mini dress with hood and a two way zipper front which can zip all the way up the hood, this is sleeveless and has a vest style finish at the back. One breast has an outline of a body printed on to it an PROPERTY OF THE CORONER. Pack includes Coroners name tag fitted to a choker Jane Doe and matching fingerless gloves. (3 piece set). Fabrics are listed as 95% polyester and 5% spandex. and other accessories are available separately." (Thanks, Belinda!)

Just 25 cents?

OK, now we're just confused.
Want more? Be sure to check out HuffPost Style on Twitter, Facebook, Tumblr, Pinterest and Instagram at @HuffPostStyle.