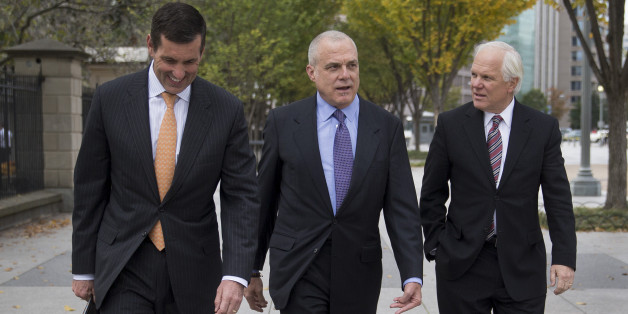 WASHINGTON -- Health insurance companies are working with the federal government and its contractors to fix the technical problems that have hampered Obamacare enrollment, the White House said Wednesday.
A dozen health insurance executives and the leaders of two industry trade groups met with White House Chief of Staff Denis McDonough, Health and Human Services Secretary Kathleen Sebelius and other administration officials to discuss the ongoing problems with HealthCare.gov, the online portal for health coverage under President Barack Obama's health care reform law in more than 30 states.
"The administration is committed to working in partnership with the insurers so we can successfully meet the great demand people have shown for the affordable health care coverage at the heart of the Affordable Care Act," the White House said in a statement following the meeting Wednesday afternoon.
In the more than three weeks since the beginning of the six-month enrollment period on Obamacare's health insurance exchanges, consumers haven't reliably been able to use the online system to buy health insurance plans or apply for financial assistance.
Insurers face serious problems of their own, such as the federal system sending bad data to their computers about their new customers. Continued failure of HealthCare.gov also could mean that only the sickest, costliest consumers will brave the difficulties and sign up, leaving health insurance companies with higher expenses and less revenue.
Although the health insurance industry didn't support passage of the health care law, its interests are aligned with the White House's in striving to make the health insurance exchanges work. Seven million Americans are projected to enroll into private health insurance using the exchanges, and many of them will receive tax credits to cut the cost.
Health insurance company employees are collaborating with officials from the Centers for Medicare and Medicaid Services and employees of CGI Federal, one of the private contractors that built HealthCare.gov, to resolve technical issues, the White House said. "These 'alpha teams' are working side-by-side to correct challenges as soon as we see them," the White House said.
America's Health Insurance Plans, the largest industry trade association, called Wednesday's meeting "positive and productive" in a statement issued by spokesman Robert Zirkelbach.
"The participants discussed the ongoing technical challenges in the federal marketplace and what needs to be done to fix these issues and improve the enrollment process for consumers," Zirkelbach said. "Our industry is committed to working with the administration to help ensure individuals and families are able to get the health care coverage they need."
Health insurance executives declined to comment to The Huffington Post. Companies contacted by email either referred HuffPost to America's Health Insurance Plans or did not reply. The trade group declined to provide CEO Karen Ignagni for an interview.
In addition to McDonough and Sebelius, Centers for Medicare and Medicaid Services Administrator Marilyn Tavenner, Obama senior advisor Valerie Jarrett and White House health adviser Chris Jennings met with the insurance industry leaders.
Aetna CEO Mark Bertolini, Humana CEO Mark Broussard, CareFirst BlueCross BlueShield CEO Chet Burrell, Blue Cross Blue Shield of Florida CEO Patrick Geraghty, Health Net CEO Jay Gellert, Health Care Services Corp. CEO Patricia Hemingway Hall, Independence Blue Cross CEO Daniel Hilferty, Molina Healthcare Chief Financial Officer John Molina, Centene CEO Michael Neidorff, Tufts Health Plan CEO James Roosevelt, WellPoint CEO Joseph Swedish, Blue Cross Blue Shield Association CEO Scott Serota, and Ignagni represented the insurers.
Jared Gilmour contributed reporting.
RELATED ON HUFFPOST:
PHOTO GALLERIES
Lies And Distortions Of The Health Care Debate