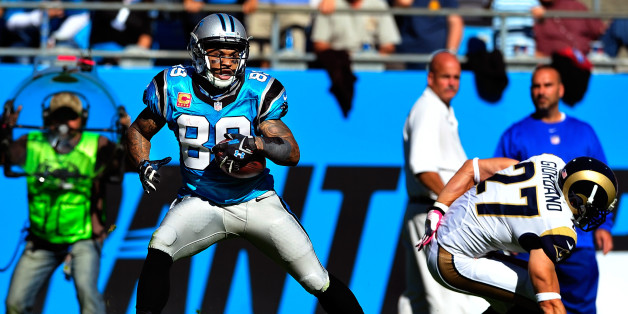 The war of words between Panthers star Steve Smith and Rams cornerback Janoris Jenkins isn't over yet. A few days after ripping Jenkins after Carolina's 30-15 win, Smith explained his locker room comments and took another shot at the defensive back on "The Drive" with Taylor Zarzour and Marc James.
"I love talking and that's part of the game, but I would never walk up to a guy, first off all I really don't know outside of watching him on video, and Google his wife's name and their birthday and call her outside of her name, and call that in the jest of sportsmanship or gamesmanship. That's not my deal. For me I take that as clear disrespect," Smith said, per CBS Charlotte. Then, he showed he can use the internet too.
"He sounds like he needs to wear some condoms," said Smith.
The 24-year-old Jenkins has four children with three different women, per the Palm Beach Post.
After the Panthers beat the Rams on Sunday, Smith lashed out at Jenkins for allegedly trash talking about his wife.
"What I don't like is a young guy, comes in, obviously his first time ever using the Internet and Google, and he Googles information about me, talks about my wife and stuff like that. That's kind of some of the (B.S). I just don't play with," Smith said, via the Charlotte Observer. "When you try to take it personal like that, I don't have any great humbling things to say. So he can take his (butt) back to St. Louis and watch the expletive) film because I don't play them games. And if I see him in the streets I'm going to bust him in his (expletive) mouth."

ALSO ON HUFFPOST:
PHOTO GALLERIES
Best 2013 Sports Photos