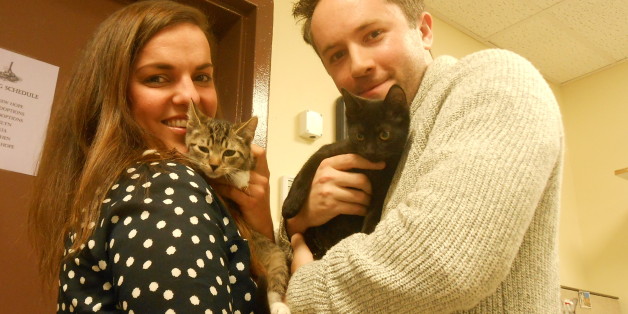 Arthur and August, the two kittens who were found on the New York City subway tracks in August, have found a new home with a young, married couple in Brooklyn.
[SCROLL DOWN FOR PHOTOS]
The two tiny felines -- whose rescue involved halting subway service and exposing the cold heart of mayoral candidate Joe Lhota -- were originally taken in by New York City Animal Care & Control.
When they heard the famous cats were up for adoption, Katherine and Keith jumped at the chance to provide a home for the adorable pair. AC&C selected the couple out of hundreds of applications.
According to an interview with New York, Arthur and August are busy exploring their new digs:
A little about their personalities: They are having a rollicking good time getting to know their new kingdom. August (the black one) is the more adventurous one so far. He has big plans. He has also shown a noticeable preference for freeze-dried cod snacks. Arthur (the gray one) is pretty shy still, but once you're in with him he is a grade-A cuddler. What's sweet is that August wants Arthur to come along for all his adventures. He's not content until his brother is having a good time, too.
Congratulations to the lovely couple!
PHOTO GALLERIES
NYC Subway Kittens