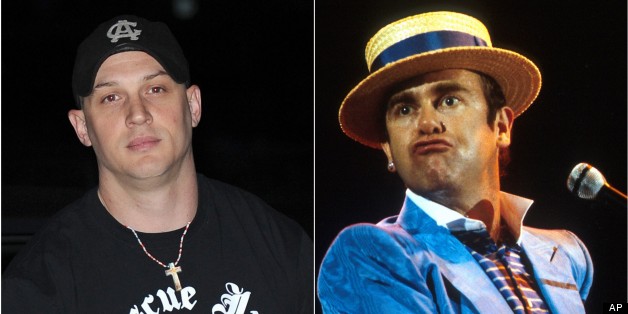 Tom Hardy's next role is a candle in the wind. According to a press release from Rocket Pictures and Focus Features, Hardy will star as Sir Elton John in the musical biopic "Rocketman."
Hardy's involvement in the project was first reported by HitFix writer Drew McWeeny in May, and later confirmed by Deadline.com's Mike Fleming in early June. (In posting the official announcement on Wednesday, Deadline.com trotted out its signature "Toldja!" exclamation, even though the site wasn't the first to reveal Hardy as a candidate.)
"Tom is a stellar talent who will add extraordinary depth and nuance in bringing Elton's story to life," Rocket Pictures CEO Steve Hamilton Shaw said in a statement. "We are excited to have such a gifted actor on board, and equally excited to be in the hands of Peter Schlessel and the entire Focus Features team."
Michael Gracey is set to direct "Rocketman," from a script by "Lee Hall," the co-writer of "War Horse." According to the press release, the film is set to begin production in the fall of 2014 and will include some new-ish material from John himself:
Much like the man himself, "Rocketman" is a larger-than-life movie musical spectacle that tells the story of a child prodigy turned music legend. Elton will re-record many of his iconic hits to parallel the emotional beats of the film that will have audiences on their feet, singing along to his much loved music.