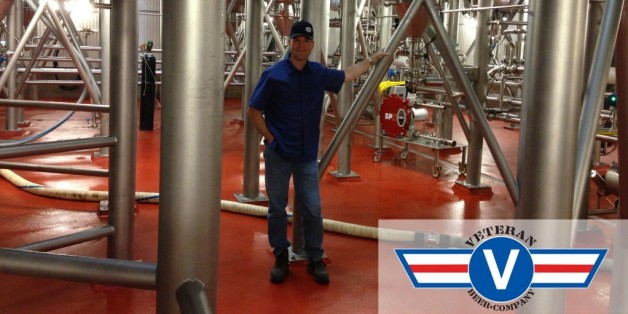 Fed up with the staggering unemployment rate among the nation's veterans and the corporations that pay little more than lip service to the problem one Chicago brewer has founded a new beer company that will exclusively employ vets.
Paul Jenkins, the founder and CEO of the Veterans Beer Company, said the business is veteran owned, and "100 percent veteran staffed" from brewers to truck drivers, to executives staff to sales force.
Jenkins, a veteran himself who retired from the Navy in 1995, recently told CBS Chicago:
"I'm a disabled veteran myself. We have a number of disabled veterans. I think each of us views the problem of veteran and disabled veteran unemployment at a very personal level. We recognize as there is a single veteran who can't find a job, we are in affect, leaving someone behind, so we have a vehicle. I want people to know where their next job is. As we grow, we'll be growing with veterans being hired from all walks of life."
Over the summer, Jenkins called the disconnect between public support of veterans and actual hires "oppressive" in a company blog post.
"Never had the "Veteran brand" been more popular; American big businesses recognized it, and were cashing in on it. Trouble is, they're making money on the backs of Veterans, even as Veterans are breaking their backs simply trying to find employment."
The company, which will release two craft beers for its Nov. 11 debut (Veterans Day, naturally): The Amber Lager and the Blonde Bomber Blonde Ale.
The Monarch Beverage Company in Indianapolis, Ind. is among VBC's first distributors. John Xenos, the distributor's general manager, said in a statement, "Even in Monarch's long-established history, I can't think of another product that has stirred the passion of our employees like the Veteran Beer Company. Their product is exceptional, their story is amazing, and their people are inspirational."
Jenkins eventually plans to go national, and has already secured formal distribution agreements with distributors in Illinois and Indiana, according to a release.
CBS reports Veteran Beer Company brews will be on sale at all Binny's and Treasure Island stores in the city and other Chicagoland area stores.
ALSO ON HUFFPOST:
PHOTO GALLERIES
10 States Where People Drink The Most Beer