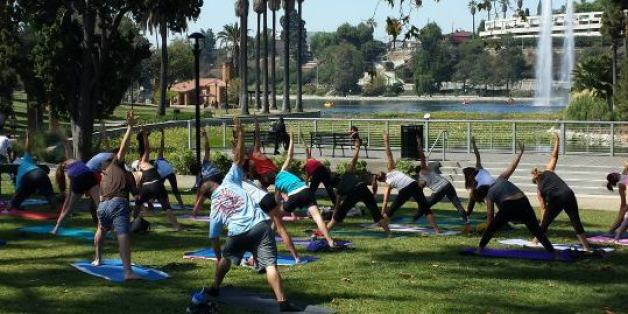 Steve Arcos is confused. The native Angeleno and longtime Echo Park resident is a beginning yoga teacher and, to give back to the community that he grew up in, he's been offering donation-based yoga classes three times a week at the newly re-opened Echo Park Lake.
So when Arcos came across an angry complaint on the Echo Elysian Forum (a Yahoo group) that accused him of profiteering from public grounds and compared his classes to "guys on blankets selling used clothing," he felt blindsided.
"No one's ever come up to say anything to me except to say something positive," said Arcos in a phone interview with HuffPost. "That's why I was so shocked to hear someone was upset about it."
Hyperlocal news site Eastsider LA first reported on the Yahoo group thread.
Arcos sets up shop in a corner of the park three times a week. He puts a small donation box next to a bowl of fruit and asks for donations in the zero to ten dollars range -- in other words, whatever participants can afford to give.
"People think I'm charging everyone," said Arcos, "but if you were to count how many people come compared to the amount of money I get, most people don't seem to pay."
And that's just fine with Arcos. He teaches at two other yoga studios around LA and thinks of his Echo Park sessions as something good for the neighborhood. They started gathering once a week in July and then twice a week in August. Now, at three times a week, Arcos' park classes attract as much as 20 students per class. And Arcos isn't the only person exercising at the park, he pointed out -- running groups and other exercise classes can be spotted around the lake from time to time.
Currently, the park is first-come, first-serve, and no permits are being issued for group activities on the lawn, confirmed a rep with LA's Department of Recreation and Parks to HuffPost. Which means that for now, Arcos and other exercise groups are free to run their classes on the lawn.
"There used to be not a good crowd there," Arcos concluded. "To see it like this now, renovated and beautiful and a great place to be, why wouldn't you want a positive group of people to be there?"
While Echo Park Lake is just beginning to grapple with its new popularity among community members and exercise groups, Palisades Park in Santa Monica has been dealing with the issue for a year. Earlier this month, the Santa Monica City Council voted to enact a year-long pilot program issuing permits to trainers and confining them to designated sections of the park, reports the local site Santa Monica Lookout.
The vote came after some Santa Monica residents requested that the groups be completely banned from the park, which overlooks the ocean.
ALSO ON HUFFPOST:
PHOTO GALLERIES
Unconventional Types Of Yoga