This month when cruising the urban landscape of New Jersey, you may come upon something that stops you in your tracks. Peppered amongst the sea of oversaturated billboards advertising hotel rates, all-you-can-eat buffets and upcoming sitcoms are 12 prints depicting the simple yet stirring image of an empty, white bed, unmade and slightly rumpled.
You may pause and -- even if only for a moment -- experience the sacred stillness of a museum in the middle of the bustling city streets.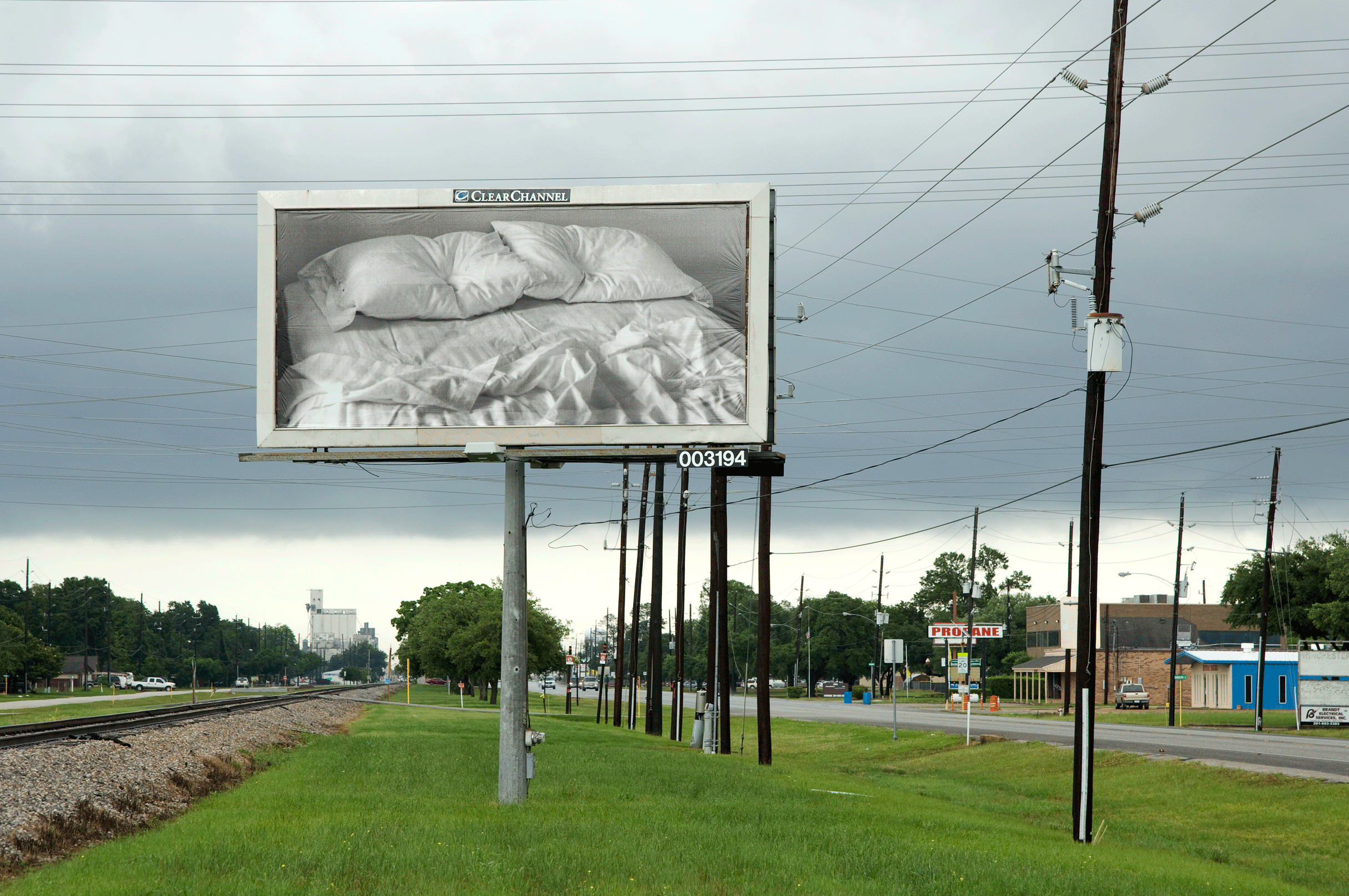 Felix Gonzalez-Torres, "Untitled," 1991. Billboard. Installation view of Felix Gonzalez-Torres Billboard Project. Artpace Foundation, San Antonio, TX. Jan.–Dec. 2010. © The Felix Gonzalez-Torres Foundation/Courtesy Andrea Rosen Gallery/photo Tom DuBrock
The 12 billboards prints are the work of the late Felix Gonzalez-Torres, a Cuban-born, American artist whose works employed everyday images to access complex and universal emotions. Whether presenting a pile of wrapped candies or two identical clocks, the Duchampian artist multiplies minimalism to imbue the simplest objects with poetic meaning that touches viewers beyond the typical museum-going encounter.
Gonzalez-Torres' billboard, left "Untitled" like so many of his works, was created in 1991, the same year Gonzalez-Torres lost his lover of eight years, Ross Laycock, to an AIDS-related illness. Gonzalez-Torres himself passed away of similar causes in 1996.
"[Laycock] was a sommelier. He was about to finish his BS in Biochemistry with a minor in English Lit," Gonzalez-Torres said in an interview with BOMB Magazine. "He did everything; he was a Renaissance man. And gorgeous too, really gorgeous. Fucking hot! But intimidating, the first time around."
The black-and-white photograph served as an elegy to Laycock. Gonzalez-Torres mounted the image on 24 billboards to commemorate the day his love died. The billboards, speckled throughout the state, occupied a ghostly realm between advertising and art, silently existing in a public space normally reserved for loud, commercialized messages.
The image of the empty bed is as innocuous as it is haunting, at once conjuring images of rest, desire, death and loneliness. The comfort and intimacy of a bedroom is replaced with a sense of isolation, with the imprints of the absent bodies still lingering. As is typical with Gonzalez-Torres' work, the personal and political, private and public, become closely intertwined.
Now, over 20 years after the original exhibition, 12 of Felix-Gonzalez's billboards rest throughout the state of New Jersey, as part of an outdoor-only exhibition organized by the Princeton University Art Museum this month. The works will remain unlabeled, inviting passersby of all backgrounds to pause and contemplate the works with no guarantee of uncovering their definitive source or meaning. Thus Gonzalez-Torres, even in death, bridges the space between art and life. They exhibition runs until December 16, 2013.
For a full map of the billboard locations, see the Princeton University Art Museum webiste.
Loading Slideshow
David Wojnarowicz (1954-1992)

Wojnarowicz left his home and education at a young age and began living on the streets, hustling and hitchhiking in New York. He used his own personal experiences as well as stories from strangers along the way to build artworks that presented alternate histories from voices of those on the outskirts of society. Wojnarowicz was diagnosed with AIDS in the late 1980s and his work became entwined with political activism. His video piece "Fire in my Belly," a raw and disturbing commentary on AIDS, has repeatedly drawn controversy due to imagery of ants crawling over a crucifix. Its imagery was labelled pornographic by religious leaders in 1989 and again in 2010. Even after his death Wojnarowicz has shown art's powers to provoke, incite controversy and hopefully promote change. Image: David Wojnarowicz, film still from A Fire In My Belly (Film In Progress) and A Fire In My Belly Excerpt, 1986-87. Super 8mm film transferred to video (black and white and color, silent), 13:06 min. and 7:00 min. Courtesy of The Estate of David Wojnarowicz and P.P.O.W Gallery, New York and The Fales Library and Special Collections/ New York University

Peter Hujar (1934-1987)

Hujar moved from New Jersey to New York to pursue a career in fashion and advertising, yet his ideas of beauty did not fit the mold. His photographs of people and farm animals were stripped of flashy details allowing a personal connection between subject and viewer to emerge. His collection of black-and-white photographs, called "Portraits in Life and Death," depicts the resilience and spirit of Hujar's circle often in their final moments. Image: <a href="http://www.amazon.com/Hujar-Stephen-Sokolowski-Interviews-Lebowitz/dp/093434907X/ref=sr_1_11?s=books&ie=UTF8&qid=1340659202&sr=1-11&keywords=peter+hujar" target="_hplink">Amazon</a>

Keith Haring (1958-1990)

Haring was born in Pennsylvania and grew up inspired by the optimistic cartoons of Dr. Seuss and Walt Disney. He moved to New York and became a member of the city's pulsing street art scene alongside Andy Warhol and Jean-Michel Basquiat. Haring adorned subway stations with his signature energetic graffiti, kid-friendly yet painfully cool combinations of color and shape. He remained devoted to AIDS activism and public service throughout his life. Image courtesy of the Brooklyn Museum.

Barton Lidice Benes (1942-2012)

Benes lived and worked in New York City, creating "museums" out of shadow boxes and little artifacts of everyday life. After Benes tested positive for HIV, he began working with pills, intravenous tubes and even cremated human remains as materials. His raw works faced death unabashedly and were often too disturbing or physically dangerous to be shown in galleries. "Lethal Weapons," for example, was a collection of 30 vessels each filled with a person's HIV-infected blood. After a 25 year battle with AIDS he passed away from kidney failure.

Rotimi Fani-Kayode (1950-1989)

Fani-Kayode, born in Nigeria, fled to the U.K. with his family in the 1960s after a military coup. His artwork has always grappled with the feeling of being an outsider, as a political refugee, a gay man, and an artist in a traditional family. His work recalls Mapplethorpe's homoeroticism while incorporating Nigerian history its traditional perceptions of masculinity. Tribal rituals take on a Baroque strangeness with the repetition of fruit, blood, blindfolds and flesh. The artist also co-founded Autograph ABP (Association of Black Photographers) with Mark Sealy.

Ray Navarro (1964-1990)

Navarro studied art at CalArts before moving to New York to continue his learning at the Whitney. He soon became an activist for ACT UP/ DIVA TV, which stood for "Damned Interfering Video Activist Television." He starred in "Like A Prayer," a work protesting the church's stance on AIDS and contraception. Navarro narrated the event while dressed up as Jesus. Navarro tested positive for AIDS and later lost his vision and hearing. He continued to make art, using his friend Zoe Leonard to function as his eyes. His work continued to spark debate on the complexity of AIDS and its relation to race and class. Image: Still from "Like A Prayer" (1991)

Robert Mapplethorpe (1946-1989)

Mapplethorpe grew up in a Roman Catholic and Irish neighborhood in Queens. He studied graphic arts at the Pratt institute but dropped out before getting his degree. He lived with punk icon Patti Smith before realizing he was gay; the two remained close friends for the rest of Mapplethorpe's life. Beginning his photographic career working in polaroids, he soon became known for sculpture-sharp black and white prints, mostly of nude men. Mapplethorpe photos feature cropped close-ups of muscles and glowing flesh, at once homoerotic and too matter of fact to be suggestive. In 1989 Mapplethorpe's traveling solo exhibition faced controversy when it was deemed too obscene by one of its host museums, raising questions of authority, censorship and funding in the arts. Mapplethorpe passed away at 42 years old of an AIDS related illness. CREDIT: Lee Black Childers, Redferns / Getty Images UNITED STATES - JANUARY 01: Photo of Robert MAPPLETHORPE (Photo by Leee Black Childers/Redferns)

Herb Ritts (1952-2002)

Ritts was born in Los Angeles, soaking up the city's obsession with beauty and style while helping define it himself. He first became interested in photography while shooting his friend RIchard Gere in front of an old Buick. He later photographed an onslaught of iconic celebrities and even worked on music videos for Madonna and Michael Jackson. His sleek black-and-white photos conjure imagery of ancient Greek perfection. While they are commercially friendly boundaries of gender and race become slippery under the surface of the perfect bodies. Ritts passed away at 50 years old of pneumonia, not HIV/AIDS. Yet <a href="http://www.windycitymediagroup.com/ARTICLE.php?AID=1990" target="_hplink">those close to him believed</a> his immune system was compromised by the disease. Image courtesy of the Getty Center.

Carlos Almaraz (1941-1989)

Almaraz was born in Mexico City and moved to a multicultural neighborhood in Illinois as a young child where he quickly became entranced with the attractive and repulsive properties of art, calling it magical. Almaraz eventually moved to California where he organized Los Four, a group that gained critical attention for the Chicano street arts movement. Teaming up with Cesar Chavez, Almaraz created murals for the United Farm Workers movement. Constantly trying tom balance his individual artistic identity and the community he represented, Almaraz struggled to represent both Hispanic art and his own. Eventually he gained mainstream success with his dreamy images of beaches, highways and other Los Angeles sun-induced hallucinations. Image: Crash in Phthalo Green, 1984, Courtesy of LACMA and Elsa Almaraz

Frank C. Moore (1953-2002)

Moore was born in Manhattan and grew up upstate, serving as class president in high school. After attending Yale he begam working as a set designer for a modern dance choreographer. He soon began painting on his own, taking visual cues from Surrealism yet staying attached to real-life issues involving politics, the environment and AIDS activism. He played a key role in conceiving the overlapping red ribbon as a symbol of AIDS awareness. Image: Frank Moore Patient, 1997-98 oil on canvas on wood panel with red pine frame 49 1/2 x 65 1/2 x 3 1/2 inches (125,7 x 166,4 x 8,9 cm) Private collection Courtesy Sperone Westwater, New York

Crawford Barton (1943-1993)

Barton was raised in a fundamentalist community in rural Georgia where he grew up shy and interested in art. He first began exploring the gay scene during his time at art school in Atlanta, where he would photograph the city's bars and clubs. He then moved to San Francisco where he captured the pleasure and pride of the emerging gay movement in the 1960s. He captured many of the icons of openly gay culture for the first time, from Pride parades to cross-dressing to leather garb. Image: <a href="http://www.amazon.com/Days-Hope-Crawford-Barton/dp/0854491740" target="_hplink">Amazon</a>

Felix Gonzalez-Torres (1957-1996)

Gonzalez-Torres was born in Cuba before moving to an orphanage in Madrid. He moved to New York City in 1979 where he became involved in the art scene and postmodern theory. He created quiet but emotionally overwhelming installations often addressing his experience with AIDS. His works, all labeled "Untitled," often used unexpected and replaceable materials like beads, light bulbs and candy. Additionally many of works contain only directions, making each installation only a manifestation of the idea of the piece. Poetically addressing matters both private and public, intimate and universal, Gonzalez-Torres shows that great hope can be found in small places. Image: Felix Gonzalez-Torres, "Untitled" (Perfect Lovers), 1987-1990. Wadsworth Atheneum Museum of Art, Hartford, CT. Gift of the Norton Family Foundation. © The Felix Gonzalez-Torres Foundation. Photo: Wadsworth Atheneum Museum of Art / Art Resource, NY.