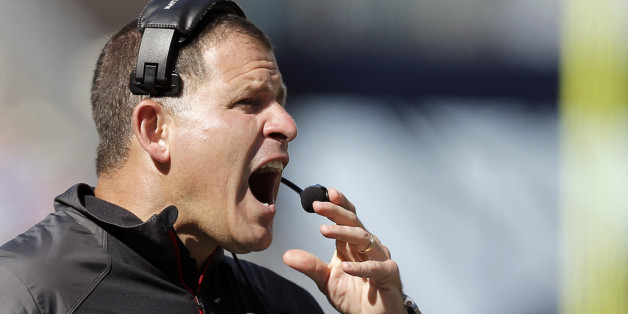 Tampa Bay Buccaneers head coach Greg Schiano does not seem to be a popular man these days: Former players are getting creative in enumerating their complaints and there is a roadside billboard calling for his ouster.
Tampa billboard's message simple, but clear: http://t.co/4fJLOVdWJy pic.twitter.com/Gtd1xXGVuF

— FOX 13 Tampa Bay (@MyFoxTampaBay) October 24, 2013
"The 'Fire Schiano' billboard is simply a reflection of the Tampa Bay community's opinion of the Buccaneers' Head Coach," Michael Sharkey, Program Director of 102.5 The Bone, told ProFootballTalk in a statement. "Our listeners have voiced their opinion that they are tired of a team, that on paper, should have a winning record."
Defensive lineman Michael Bennett, who left Tampa Bay for the Seahawks this past offseason, went on the record with his criticism.
"I think he just wants to flex his power," Bennett told Mike Silver of NFL.com. "He has small (man's) syndrome. I still talk to guys who are there, and trust me, there's not much respect for him in that locker room."
An anonymous player from the 2012 Bucs gave Silver a unique appraisal of life under Schiano.
"How bad is it there? It's worse than you can imagine," the player told NFL.com. "It's like being in Cuba."
The Buccanneers will attempt to record their first win of the season against the Carolina Panthers on Thursday.