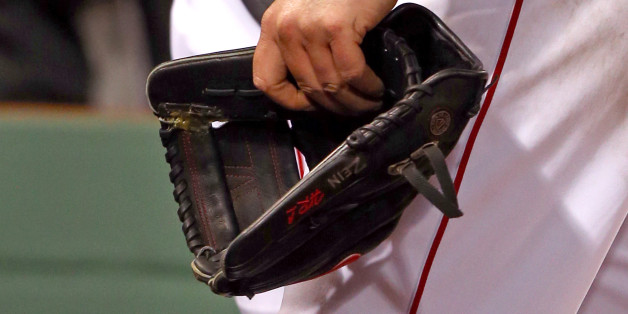 Jon Lester has been sweating.
According to Red Sox manager John Farrell, the lefty who dominated Game 1 of the World Series has not been sweating because his cheating was uncovered. He has just been sweating because he is always sweating. As the Red Sox explain it, this propensity for perspiration led Lester to take the mound at Fenway Park on Wednesday night with a dab of rosin on his glove. It helps him keep a firm grip on the ball. Lester's glove -- and then his sweat -- was a hot topic of conversation on Thursday afternoon after a minor league pitcher in the Cardinals' farm system, Tyler Melling, shared a photo on Twitter that appeared to show it may have been hiding a green, foreign substance. Melling's initial tweet, since deleted, caused such a stir that MLB issued a statement and both teams addressed the controversy.
"From my perspective, if you know Jon Lester, he sweats like a pig and he needs rosin," Farrell explained to reporters before Game 2 when asked about the photos and the green smudge on Lester's glove. "And you know what, he keeps it in his glove. Other guys will keep it on their arm. Other guys will keep it on their pant leg. So that's my response to the allegations."
Unprompted, Farrell did concede that the greenish hue seemed odd, even to him.
"The one thing that seemed very odd is that it shows up in a lime green color," he admitted. "I don't know how that can happen."
Lester, who pitched 7.2 scoreless innings and struck out eight as the Sox cruised to an 8-1 win in the Series opener, also addressed the allegations. Like his manager, Lester claimed the substance was simply rosin.
"The rosin bag's back there for a reason, and I just so happen to put it in my glove," Lester said, via MLB.com. "That seems to be the best system for me that works. I'm going to continue to do it. That's really it."
Also like his manager, Lester had no explanation for the color of the spot on his glove.
"I saw the picture and I don't know what that is," he said. "It looks like a giant booger, almost. I don't know how that came about, with the lighting, I don't know. Like I said, I saw the picture, I don't know how that is. It's rosin, I guess with sweat and licking your fingers and rubbing your fingers in there, it may turn a different color, I don't know. I don't pay attention to that stuff when I'm pitching."
Lackey may not have been paying attention to the discoloration on his glove but plenty of others were. The speculation was so rampant that Major League Baseball issued a statement on Thursday.
"We cannot draw any conclusions from this video. There were no complaints from the Cardinals, and the umpires never detected anything indicating a foreign substance throughout the game."
For their part, the Cardinals seemed happy with Boston's explanation and MLB's due diligence.
"Just to reiterate the fact that this was not instigated by us," Cardinals manager Mike Matheny said during media availability before Game 2 when asked about the tempest in a pitcher's glove. "And the way that we approach this is we just play the game. We don't deny that some things have been acknowledged. And if that's what he claims, then that's what it is. That's all there is to it. And right now it's pretty much a dead issue. We move on with the fact that the League now has to take notice. But once again, this wasn't something that was instigated by us."
To sum up: the Sox say "rosin," the Cards say "no problem" and MLB says "nothing to see here." Satisfied?