Kid Rock isn't one to mince words. During a CNBC "Squawk Box" interview Wednesday, he dismissed a commentator's equivocation of Madonna and himself, saying, "Madonna ain't done nothing for Detroit!"
While both artists have championed the city and rooted for its comeback, Kid Rock has been putting his money where his mouth is. The artist has funded a music exhibit at the Detroit Historical Museum, a scholarship at Wayne State University and put on a performance to raise $1 million for the Detroit Symphony Orchestra.
For the record, Madonna was born in Bay City, Mich. and grew up in a northern suburb of Detroit. Kid Rock hails from Romeo, Mich., north of the city.
And here is a photo of Madonna and the brim of Kid Rock's hat (as well as Guy Oseary), in happier times at at the 1999 MTV Video Music Awards: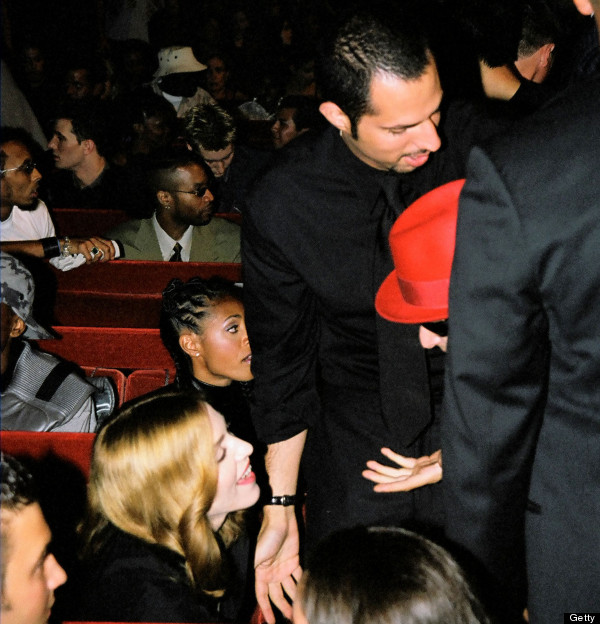 Photo by Jeff Kravitz/FilmMagic, Inc
Madonna Through The Years
Madonna, "The Virgin Tour", June 1985

Madonna performs at Live Aid, July 1985

Madonna on the cover of Playboy, 1985

Madonna performing in Paris, Aug. 1987

Madonna performs during her 'Girlie Show' in Bercy Omnisport Palace in Paris, Sept. 1993

Jan. 1990

Madonna on her "Blonde Ambition" tour, April 1990

Madonna blows the crowd a kiss after receiving the award for Best Female Video 07 September during the 1995 MTV Video Music Awards, Sept. 1995

1996 VH1 Vogue Fashion Awards

Madonna at Vogue Fashion Awards, Jan. 1998

Madonna, "Ray of Light" video, Sept. 1998

41st Annual Grammy Awards, Feb. 1999

Performing at 2000 MTV Europe Music Awards

Madonna, 'Drowned World Tour', July 2001

2003 MTV Video Music Awards -- The kiss that rocked the world.

Madonna, April 2003

Madonna reads from her new children's book "Mr. Peabody's Apples", Dec. 2003

Madonna's "Re-Invention" Tour, May 2004

U.K. leg of Madonna's "Re-Invention" Tour, Aug. 2004

Madonna performs at Live 8 London, July 2005

Madonna and her then-husband, Guy Richie, at the TIFF Gala Premiere of his film "Revolver", Sept. 2005

Premiere Of Madonna's Documentary "I'm Going To Tell", Oct. 2005

Awards Room at 2005 MTV Europe Music Awards, Nov. 2005

Madonna plays G-A-Y at Astoria, Nov. 2005

48th Annual Grammy Awards, Feb. 2006

Madonna plays Wembley Arena during her "Confessions" world tour, Aug. 2006

Madonna performs in Germany in the European leg of her "Confessions" world tour, Aug. 2006

Live Earth London, July 2007

"I Am Because We Are" Premiere at Cannes, May 2008

Madonna performs at Dodger Stadium, with a special appearance from Britney Spears, Nov. 2008

Madonna with daughter Lourdes at the New York premiere of "NINE", Dec. 2009

Madonna holds hands with her adopted daughter Mercy James as she arrives at the 'Raising Malawi Academy for Girls' in Chinkhota, Malawi, April 2010

Macy's "Material Girl" Collection Launch with daughter Lourdes and "Material Girl" model Taylor Momsen, Sept. 2010

2011 Vanity Fair Oscar Party with daughter Lourdes, Feb. 2011

Madonna attends the 'Alexander McQueen: Savage Beauty' Costume Institute Gala at The Metropolitan Museum of Art on May 2, 2011.