All those rumors about Anna Wintour girl-crushing on Lena Dunham? Yeah, they might not be so far off.
Reports earlier this week stated that Vogue's editor-in-chief is wooing Dunham, allegedly planning a private dinner for her with the aim to "seduce Lena into bringing her next generation audience into the Vogue brand." Also speculated? That Lena might have a Vogue cover in the works.
While a cover is far from confirmed (and some might even deem it highly unlikely), Anna and Lena were spotted hanging together on Wednesday -- at a CFDA/Vogue Fashion Fund event, no less. Dunham joined fashion darlings including Rose McGowan, Diane Kruger and Jessica Pare, plus industry heavyweights like Rachel Zoe and Victoria Beckham, at the swanky Chateau Marmont luncheon, where the gals clinked glasses, chatted with CFDA designers and took in a fashion show.
They also posed for pictures with Anna. The famously icy editor even cracked a smile for her Dunham photo opp, which is as good a sign as any that this friendship is blossoming before our very eyes.
We know we want a Dunham Vogue cover. But does Anna?
PHOTO: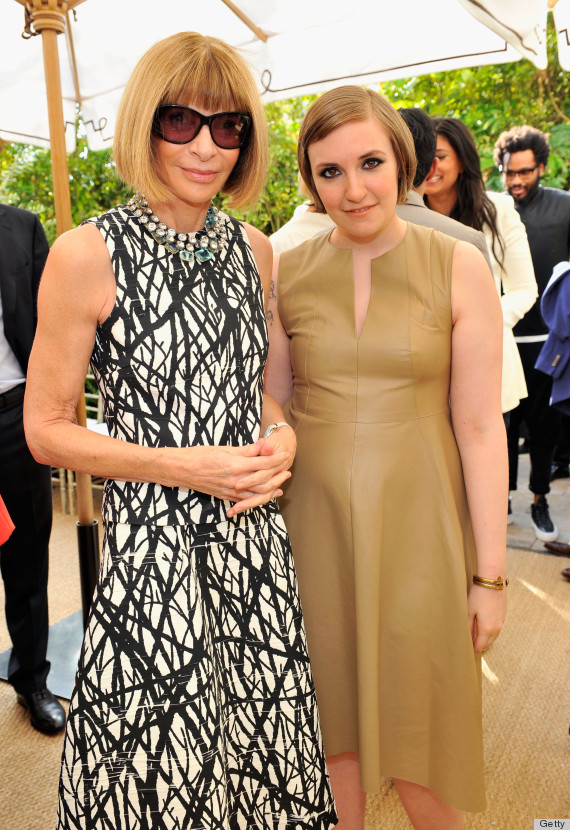 The odds might be in Lena's favor...
Does A Seat Next To Anna Guarantee A Vogue Cover?
The "Gossip Girl" starlet is a favorite of the fashion set, including Karl Lagerfeld and Anna Wintour. So it was no surprise when Lively sat beside Anna at the Christian Dior Couture Fall 2010 show in Paris show in July 2010 -- she had already landed a Vogue cover the month before and in 2009. COVER? Yes -- two. (Getty photo)

The German actress is a fashion favorite, popping up at couture shows and fashion parties worldwide. She joined Anna at the Chanel Cruise show back in May 2008, but has so far still only appeared in Vogue's party snaps and Best Dressed lists. COVER? No. (Getty photo)

The former White House social secretary was known for her exceptionally fashion-forward style and joined Anna in the front row of Carolina Herrara's Fall 2009 show and for Oscar de la Renta resort in 2010. By September 2011, she found herself posing in Prabal for Vogue... but merely for a small shoot. COVER? No. (Getty photo)

The CBS host is a buddy of Anna's, interviewing her for her "60 Minutes" interview in 2009. He also found himself in the front row of Ralph Lauren's Fall 2009 show... but not actually in the pages of Vogue. COVER? No. (Getty photo)

SJP earned her style credentials playing fashionista Carrie Bradshaw but also by being a real-life fashion enthusiast. She sat with Anna at the Narciso Rodriguez Spring 2011 show in September 2010... one month after appearing on Vogue's cover. For at least her third time. COVER? Yes -- three. (WireImage photo)

A fashion enthusiast in addition to an NBA player, Amar'e joined Anna at the Tommy Hilfiger Spring 2011 show. He did turn up on Vogue.com playing basketball with Hamish Bowles, but he hasn't reached the heights of LeBron James when it comes to fashion covers. COVER? No. (Getty photo)

T-Swift put on her best frilly dress and hit the Rodarte Spring 2012 show with Anna just last September. Lo and behold, we were graced with Swift's first Vogue cover just this month (wearing Rodarte, no less). COVER? Yes. (Getty photo)

At the same Rodarte show, Anna positioned Rooney Mara by her side. The "Dragon Tattoo" star was beginning to gain fashion cred already, but Wintour's blessing solidified it... and landed her Vogue's November 2011 cover. COVER? Yes. (Getty photo)

Anna loves tennis -- and tennis stars. Serena Williams has joined Wintour on the front row several times, including at the Michael Kors Spring 2011 show in 2010. She has appeared in the magazine multiple times but has never nabbed Vogue's biggest prize. COVER? No. (WireImage photo)

The hip-hop star surprised everyone by showing up with Anna to the Carolina Herrera and Oscar de la Renta Spring 2012 shows. But that was September... and we've seen no Vogue covers yet. COVER? No. (Getty photo)

The football (or soccer, if you will) star attended his wife Victoria's Fall 2012 fashion show on Sunday, sitting next to Anna and snapping pictures of the runway looks. He's never covered the magazine, but it's not too crazy an idea: out of the three men who have landed Vogue covers (yup, that's three ever), one was LeBron James. So we know Anna's got a thing for athletes. COVER? Not yet... (AFP photo)

Gillibrand, a junior U.S. senator from New York, was an unexpected front row pal of Anna's this Fall 2012 fashion week. She joined Wintour at the Carolina Herrera show on Monday, perhaps indicating a future in Vogue's pages (the magazine does like to feature powerful women in politics). But Gillibrand as a covergirl? We just don't see it. COVER? Not yet... (WireImage photo)

The "The Help" star sat beside Anna at Tuesday's Vera Wang Fall 2012 show. She hasn't covered Vogue before, but her star is certainly rising this year with all her "Help" accolades. COVER? Not yet... (Getty photo)

The tennis star sat on Anna's other side at Tuesday's Vera Wang Fall 2012 runway. Tennis stars often appear on Vogue's pages and Maria has been featured multiple times. But as for the cover... COVER? Not yet... (WireImage photo)
Want more? Be sure to check out HuffPost Style on Twitter, Facebook, Tumblr, Pinterest and Instagram at @HuffPostStyle.