Restorers working on renovations for the Sforza Castle in Italy got quite a shock this week when they peeled away several coats of paint to reveal part of a Leonardo Da Vinci mural.
Buried beneath 17 layers of whitewash, the portion of the drawing -- which depicts a tree root stuck in a rock -- has likely been hidden from view for at least 500 years. As La Gazzetta del Mezzogiorno reports, the newly uncovered drawing is actually part of a larger body of artwork painted by da Vinci while he served as the court artist for the duke of Milan in the late 1400s. The recent discovery was made in a room where an original da Vinci mural is already visible on the walls.
(Story continues below)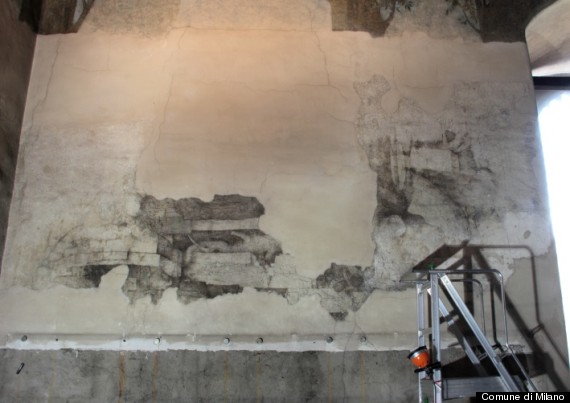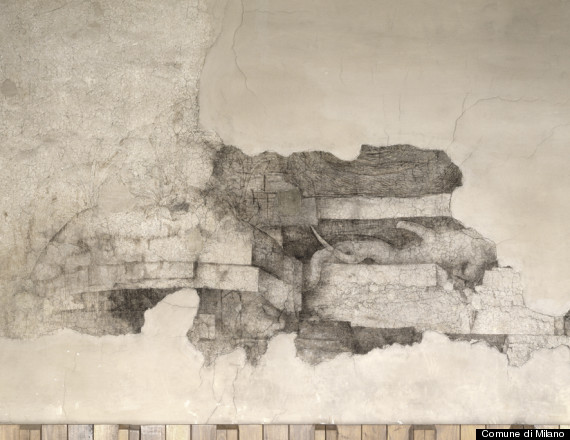 The city of Milan plans to restore the full mural painted by the Italian Renaissance artist.
Restorers used tools to scrape away the layers of paint hiding the partial work, but they may have to employ more high-tech means to reveal the rest.
According to Italian newspaper Leggo, officials plan to restore the mural in time for the next Universal Exposition, a months-long festival hosted by a different country every five years. The next exposition will take place in Milan in 2015.
The mural in the Sforza Castle is not the only possible work of da Vinci's to be uncovered recently. Earlier this month, experts revealed that a painting found in a Swiss vault appeared to be a long-lost da Vinci work, a portrait of noblewoman Isabella d'Este.
Also on HuffPost:
Loading Slideshow
1. Leonardo Da Vinci was a <a href="http://books.google.com/books/about/The_Heretic_s_Feast.html?id=rIjZo-cvifAC" target="_blank">committed vegetarian</a> at a time when this choice was highly unusual. A <a href="http://www.ncbi.nlm.nih.gov/pubmed/20375518" target="_blank"> 2010 study suggests that his nonconformist culinary decisions possibly contributed to his stroke</a>. Image: Last Supper 1495-1498

2. Da Vinci was the first person to explain <a href="http://www.uu.edu/dept/physics/scienceguys/2000Oct.cfm" target="_blank">why the sky is blue.</a> (Light scattering, duh.) Image: Lady with an Ermine oil on panel

3. Leonardo Da Vinci was <a href="http://www.guardian.co.uk/education/2010/jan/26/ambidextrous-children-schools" target="_blank">ambidextrous</a>, meaning he could write forward with one hand and backward with the other. Image: The Virgin and Child with St. Anne from 1500 until 1513

4. Leonardo Da Vinci was also <a href="http://www.telegraph.co.uk/science/science-news/8128233/Dyslexia-the-secret-of-Da-Vinci-and-Picassos-success.html" target="_blank">dyslexic</a>, and had trouble reading, writing and spelling. (Luckily his drawing skills weren't too shabby.) Image: Vitruvian Man

5. Mona Lisa is mostly happy, a little bit disgusted. <a href="http://discovermagazine.com/2006/may/10-da-vinci#.UWv0PyvwLKw" target="_blank">Discovery Magazine</a> reported on research on the painted lady's notoriously coy expression. Apparently "researchers at the University of Amsterdam and the University of Illinois used face-recognition software to determine that the Mona Lisa is 83% happy, 9% disgusted, 6% fearful, and 2% angry." Image: Mona Lisa between 1503 and 1505

6. The devoted artist took his interest in the mechanics of the human body to a new level by dissecting human cadavers to best understand how the human body operates. Image: Studies of Embryos

7. Leonardo Da Vinci, an accomplished lyre player, was first presented at the Milanese court as a musician, not an artist. Image: Study of horses circa 1490 Silverpoint on prepared paper

8. Ever the animal rights enthusiast, Leonardo Da Vinci <a href="http://www.guardian.co.uk/artanddesign/jonathanjonesblog/2011/nov/30/leonardo-da-vinci-animal-rights-activist" target="_blank">reportedly enjoyed purchasing caged birds so that he could set them free</a>. Image: The Virgin of the Rocks

9. Leonardo Da Vinci and Michelangelo were <a href="http://www.guardian.co.uk/culture/2002/oct/22/artsfeatures.highereducation" target="_blank">reportedly frenemies</a>. In <a href="http://www.guardian.co.uk/books/2010/apr/25/lost-battles-jones-michelangelo-davinci" target="_blank">"The Lost Battles: Leonardo, Michelangelo and the Artistic Duel That Defined the Renaissance,"</a> Jonathan Jones writes that two rival artists would often cause serious reality show level drama by insulting each other in public. Image: La Scapigliata

10. As if Leonardo Da Vinci hadn't accomplished enough in his lifetime, the multitalented artist and intellectual is now living the dream as an action hero in the new Starz drama "<a href="http://www.huffingtonpost.com/2013/02/11/da-vinci-demons-television-show-poster-art-trailer_n_2662059.html" target="_blank">Da Vinci's Demons.</a>"