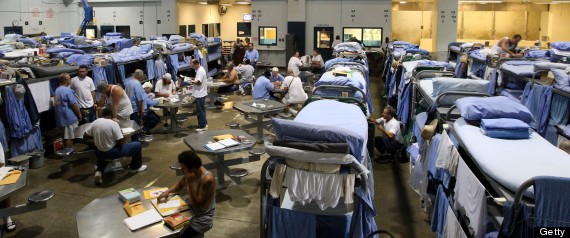 Inmates at the Mule Creek State Prison in a gymnasium that was modified to house prisoners. This photo was taken at the height of the prison overcrowding crisis in 2007. Since then, the state has reduced its prison population by thousands, but the prisons are still too crowded, according to a federal panel of judges.
The California City Correctional Center is seen under construction, in the Southern California Mojave Desert town of California City, on May 3, 1999.
Inmate Leon Browne, 21, of Los Angeles, right, sat on his bunk in a prison gymnasium in 2007. At the height of the prison overcrowding crisis several years ago, the gym served as a temporary "emergency" sleeping area at California State Prison-Los Angeles County in Lancaster, Calif. The state has lowered the prison population since then, but has yet to satisfy a federal court's requirements for relieving overcrowding.
Also on HuffPost:
27 Reasons Why U.S. Shouldn't Lead War On Drugs
FOLLOW HUFFPOST