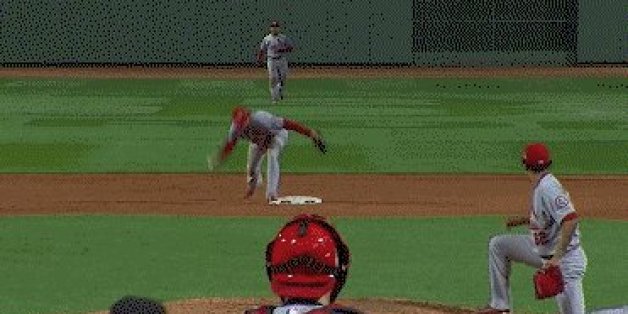 Game 2 Pete Kozma looked quite different than Game 1 Pere Kozma.
The Cardinals' shortstop was dropped from the lineup for the second game of the World Series after making two costly errors in the opener on Wednesday. But when the 25-year-old entered the game in the seventh inning of Game 2, he immediately redeemed himself with a pretty barehanded play to get Boston's Stephen Drew out at first base.
(GIF via SB Nation)
Just before his stellar defensive play, Kozma played a key role in St. Louis' three-run inning. He pinch-ran for David Freese on second base and stole third. Then he scored on a sacrifice fly to tie the game at two. He was followed home by Jon Jay thanks to an error by the Boston defense giving the Cardinals a 3-2 lead.
The Cardinals went on to win Game 2 and tie the Series 1-1.