Wombfire (noun, hashtag) 1. a child so amazingly cute that they figuratively set your womb ablaze. 2. when your reproductive system (i.e. womb) tingles with maternal excitement, potentially breaks out into Beyoncé choreography and/or prompts spontaneous family planning (i.e. running home to make a baby). 3. hashtag used to illustrate flurry of emotion described above (i.e. "This baby is giving me major #wombfire" or "#Wombfire alert!")
Cutie: Christopher Savage
Age: 15 months
Mom: Jennifer Savage (Dental front desk coordinator)
Dad: Troy Savage (Security dispatcher)
Hometown: Philadelphia, PA
What advice would you give first-time mothers? Don't feel bad about worrying and being overprotective. It's natural. Also, make sure you stay current with appointments. Congenital heart disease affects 1 in 100. Christopher is a heart warrior!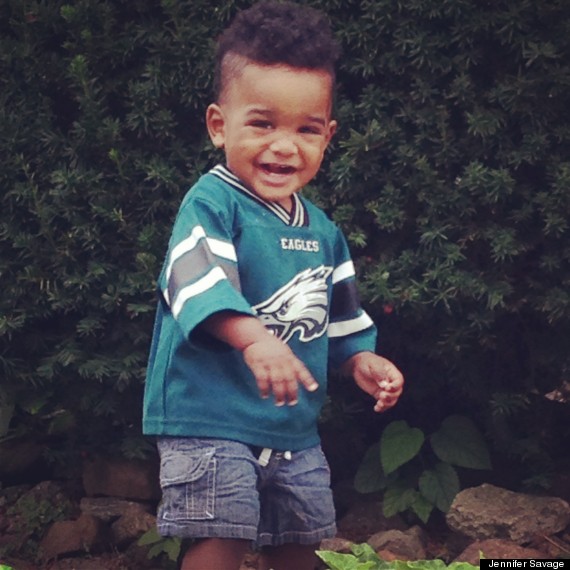 Fill-in-the-blank with Christopher...
1. My favorite food is edamame.
2. My dream playdate would be with Super Grover or Cookie Monster.
3. If I had to describe my style it would be: Rockstar chic.
4. I think music is the best thing in the world.
5. When I grow up I want to be a pro football playing cardiologist.
6. My cutest moment was when I learned to hug big squeezy groany hugs.
7. My favorite song to dance to is "Blurred Lines" by Robin Thicke.
PHOTO GALLERIES
Christopher Savage
Check out last week's wombfire HERE...and keep the CUTE coming! If you've got a #wombfire or know someone who does, let us know by adding the hashtag #wombfire to your Twitter, Instagram and/or Facebook photos. We'll be in touch if we decide to feature your cutie as a #Wombfire Of The Week.