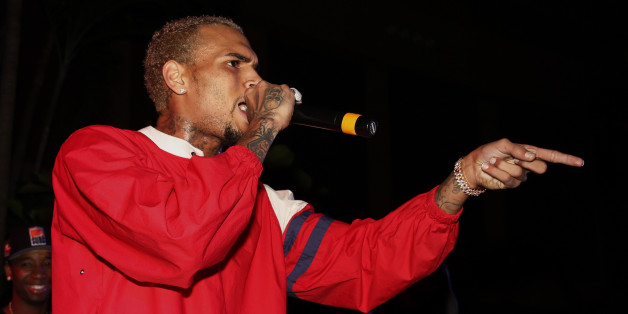 Chris Brown allegedly yelled a homophobic slur before his felony assault arrest in Washington, D.C., early Sunday.
Brown and his bodyguard were arrested in D.C. around 4:30 a.m. Oct. 27 outside the W Hotel on K Street after they reportedly got into a physical altercation with the alleged victim, later identified as Isaac Parker, 20, of Beltsville, Md.
TMZ reported that Brown went ballistic when the alleged victim and his friend photobombed a picture the singer was taking with two females outside the hotel. The 24-year-old supposedly said "I'm not into this gay s--t, I'm into boxing" before reportedly punching Parker in the face. The alleged victim told TMZ he isn't sure why Brown was "so homophobic."
Parker reported this to authorities, and the homophobic remark appears in the police report from the incident, according to ABC News.
Sources connected to the "Love More" singer disagreed with this account, however, telling TMZ the man was attempting to get onto the tour bus and that the R&B star was stopping him from trespassing.
Brown's rep could not be immediately reached for comment.
If he did hurl the anti-gay slur, the remark stands in stark contrasts to a message of equality Brown was attempting to spread just last month. On Sept. 30, Brown tweeted "Love is not a crime. Gay or straight. Love who u wanna love. Stop the hate & sign here" with the hashtag "#Unity" in support of an AllOut.org petition against anti-gay violence in Africa.
Brown has been accused of using terms like "homothug," "n---as is gay" and "faggot" in the past. He supposedly used the f-word during a confrontation with Frank Ocean earlier this year.
He is expected in court later Monday, according to ABC News. He is reportedly being held in jail and isn't eligible for release until he sees a judge, due to his ongoing probation from the 2009 assault of Rihanna.
RELATED ON HUFFPOST:
PHOTO GALLERIES
Anti-Gay Celebrity Statements