In the world of costume design, no name commands as much respect as Edith Head's does. The legendary designer outfitted some of Hollywood's most iconic leading ladies, including Kim Novak in "Vertigo," Grace Kelly in "To Catch A Thief" and, of course, Audrey Hepburn in "Roman Holiday."
After the latter film's release in 1953, Head sat for an on-camera interview in which she presented Hepburn's "wardrobe test." The original footage showcases Hepburn modeling Head's creations, including that iconic ensemble she wears on a scooter ride with Gregory Peck.
"You see, she's supposed to be a princess disguised as an ordinary girl on the streets of Rome. So we made her a simple costume, so she wouldn't look different," Head explained, noting how Hepburn rolls up the sleeves of the shirt. "In the picture, she had to look casual, informal and we felt, due to the heat of Rome in summer, a girl would really do this sort of thing."
As it would happen, Hepburn became an instant star after "Roman Holiday," in part due to the elegance with which she wore Head's ensembles. In honor of what would have been Head's 116th birthday today (Oct. 28), we're taking a look back at the costume designer's renowned work in the film. Watch the video above to see Head herself explain the process and see photos of the iconic results below.
Audrey Hepburn wearing Edith Head's designs in "Roman Holiday":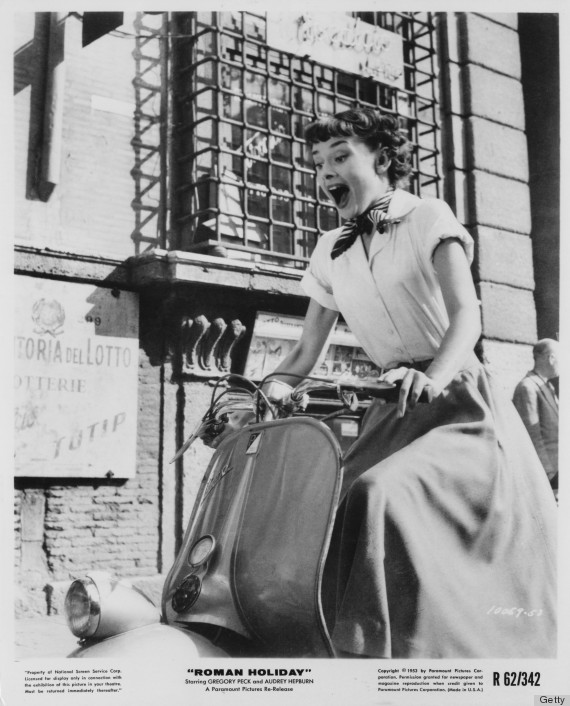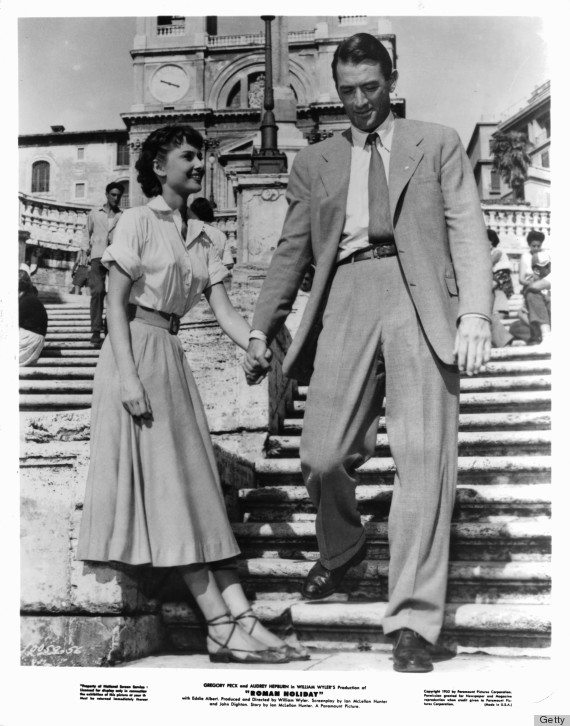 Edith Head in her signature glamorous style: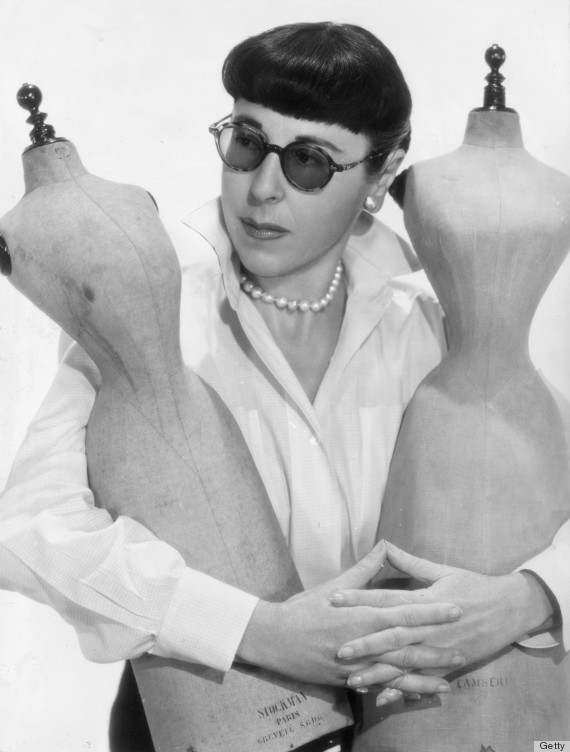 Relive more of Audrey's elegant style moments:
Hepburn wore this Givenchy dress to the 1954 Academy Awards, where she won the Best Actress Oscar for her role in the film "Roman Holiday." The delicate lace and the classic silhouette makes this an iconic style moment.

Audrey channels her character Holly Golightly in the movie "Breakfast at Tiffany's" in a cute black embroidered dress and pouffed hair.

We're in tweed heaven! Audrey cuts a dashing figure in this three-quarter sleeve coat.

One of the most recognizable photos of Audrey in "Breakfast at Tiffany's." The actress wears her famous little black dress with a jewel-encrusted pearl necklace, and her hair piled up high on her head. So chic.

Tradition with a twist; Audrey wraps herself up in a sari.

One of the first actresses to embrace masculine style, Audrey embodied boy-chic with her pixie cut and made it feminine with a structured dress.

Here she is embracing her inner man in fun striped pants and a fitted men's collar shirt.

A beachy shot from the 1950s.

Audrey proves that all you need is a little black dress and a pair of elbow-length gloves to look chic and sexy.

Even turtlenecks can be beautiful!

If you wear a large hat and movie star sunglasses it's guaranteed you will look like a spy. A glamorous spy, but a spy nonetheless.

Pure '60s style makeup going on here with loads and loads of mascara, eyeliner and shadow.

Can Audrey pull off an odd-looking hat? Is that just a tall boater with a tassel?

Double the bow, double the glamour.

Audrey's spectacular "My Fair Lady" gown and her classic "Breakfast at Tiffany's" dress are like day and night. But this look is so fun and over-the-top that we can't stop staring at it.

We love this classic tweed two-piece outfit. It's very Chanel.

There's nothing more chic than a red coat paired with black gloves. She was way ahead of her time.

Only Audrey can make a cloche hat with what looks like hanging pearl grapes look good.

A crushed velvet gown with a belt? Sign us up!

Audrey never really veered away from boatneck style dresses -- but why change a good thing?

A basic black jumpsuit at its finest.

Who cares about the dress... Look at that loopy hair!

The perfect outfit for cold weather.

Matching your clothes and accessories can work if the print is fabulous.

The perfect gown to dance in.

It must be spring time -- The flowers on Audrey's dress are in bloom.

Pink and perfect.

Soaking up the sun.

A chic snack!

With two suitors.

Enjoying a good read.

Getting some help grocery shopping.

Taking a glamorous cat nap.

Making a stop at the deli counter.

Feeding a doe.

Driving us wild!

We love her chic short bangs.

With Humphrey Bogart in 1954's "Sabrina."

1954

1952

1960

1953

1955

1961

1956

In "Roman Holiday," 1953.

If there's one woman who exudes glamour and sophistication in her beauty look, it's Audrey Hepburn. And her enviable Holly Golightly hair and makeup, which she wore in 1961's Breakfast at Tiffany's, is well within reach. We went backstage at the Breakfast at Tiffany's Broadway play to learn the secrets behind Audrey's classic look. On Maria: KORS by Michael Kors.
Want more? Be sure to check out HuffPost Style on Twitter, Facebook, Tumblr, Pinterest and Instagram at @HuffPostStyle.