Recipes That Demand A Poached Egg To Be Brilliant (PHOTOS)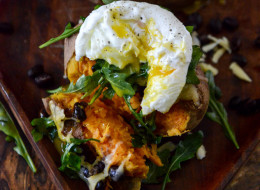 In case you missed it, our Senior Editor Kristen Aiken took some time out of her busy schedule to drop some straight up culinary school knowledge bombs on everyone about perfect poached eggs. It was awesome, and it made us think about how a well-poached egg can make a great recipe a brilliant recipe in no time flat.
Of course, the most classic poached egg dish is the old brunch standard, Eggs Benedict. But once you've eaten a few of those, you'll want to branch out. So far, we haven't really found a single savory dish that doesn't get more awesome when you put a poached egg on it. From salad to pasta to polenta to soup. We're going poached egg crazy over here. If we've missed your favorite thing to put an egg on, let us know in the comments!
Eggs Benedict

Simply Recipes

Arugula, Avocado And Radish Salad With Poached Egg

fiveandspice/Food52

Poached Eggs Over Avocado & Smoked Salmon

Cookin' Canuck

Polenta With Mushroom 'Ragu', Poached Farm Egg, & Garlic Breadcrumbs

wcfoodies/Food52

Asparagus With Vinaigrette And Poached Egg

Mimi Thorisson/Manger

Sautéed Kale, Roasted Sweet Potato And Poached Egg Holiday Toast

Nicole Franzen/Food52

Black Bean, Arugula + Poached Egg Stuffed Sweet Potatoes

How Sweet It Is

Chicken + Mushroom Noodle Soup With Poached Eggs

How Sweet It Is

Moroccan Merguez Ragout With Poached Eggs

Sarah Shatz/Food52

Sicilian Anchovy Pasta With Toasted Breadcrumbs

Taste Buddies

Poached Egg & Bacon Sandwich

James Ransom/Food52

Spigarello With Poached Eggs

Brooklyn Salt
Want to read more from HuffPost Taste? Follow us on Twitter, Facebook, Pinterest and Tumblr.