As Superstorm Sandy lashed New York City with high winds and pounding rain, Jo-An Tremblay-Shepherd found herself in the dark, on a slippery stairway, trailing an NICU nurse who was carrying her son, Jackson, down nine flights. Her baby, who was born preterm at 27 weeks in late August 2012, was one of 20 evacuated from from the NYU Medical Center's NICU in the early hours of Oct. 29, after the hospital lost power and its backup generators failed.
Days later, Tremblay-Shepherd spoke with The Huffington Post about the experience. "It's hard enough to have a baby born prematurely, but to have this on top. ... It was a bit much," she said, though she took pains to say how proud she was of her tiny son. "He's a fighter," she said.
One year later, we caught up with Tremblay-Shepherd to hear about the weeks and months after the storm, and about her experience of parenthood since. Here's what she said:
During the evacuation, we were transferred to Montefiore Hospital [in the Bronx], and we ended up staying there. We had to drive up to the Bronx, from Brooklyn, every day to see Jackson -- sometimes, it was around 45 minutes, other times, it was an hour and a half. And there was a fuel shortage at the time. We ran out of gas, and we had to borrow friends' cars that still had a quarter tank of gas here and there. It was a bit of a logistical nightmare that first week.
Jackson did stay on a nasal cannula [a device used to deliver oxygen] for a little while after we got transferred. What I've learned about preemies is that they don't really like change, so uprooting Jackson from NYU to Montefiore ... I think it kind of set him back a little in terms of when he was released from the hospital. But ultimately, everything fell into place. It was just a little adjustment period that we had to all deal with.
Jackson ended up staying in the hospital, at Montefiore, until just before Thanksgiving, which is when he was due. They say that's a pretty normal NICU stay for preemies of his gestational age, if they don't have any major complications.
Now, he's doing really well! We just had his one-year medical appointment with his pediatrician, and everyone's really pleased with his progress. He's hitting all of his milestones for his adjusted age -- which is around 11 months. He's doing everything an 11-month old would, and then some. He's not walking yet, but he's almost there.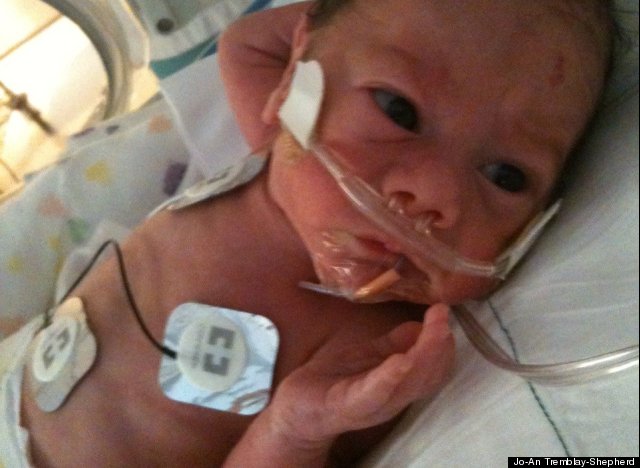 Jackson, when he was still in the NICU.
The week after Jackson came home, I got pregnant! Our daughter's name is Roxanne. She made it to full-term, and no one really knows why my water broke so early with Jackson. She and her brother were both born on blue moons, both at NYU, but they were complete opposite births -- Roxanne was 8 pounds, 2 ounces; Jackson was born at 2 pounds, 8 ounces. I think he's aware that she's around, but it hasn't registered enough that he's jealous or anything. He's really chill about it. He's such a good kid.
I don't think about the storm, or that night, much. Sometimes, people bring it up -- they say, "Oh, Jackson's been through so much." Or, when I was pregnant, people would joke: "I wonder if you're going to go through a hurricane with this one!" I'm still in touch with the nurse from NYU that helped carry Jackson down the stairs -- she actually came for lunch last week. She's still in our lives, and so are some other nurses who were so pivotal in his first months of life. That was cemented with the crazy scenario we were put into. Big ups to the nurses and medical staff!
We did get a lot of press attention, and it was totally weird to have our story out there. It got to a point where it felt a little invasive, to be honest with you. We kept getting calls from journalists. When he came home from the hospital, for example, people wanted to video that, and it just seemed like too much. We stopped talking to the press. I was discussing it with my dad, and said that I didn't think we were going to talk to any media around the anniversary of Sandy, but he reminded me that Jackson's story is one of hope, because of how well he's doing despite all the obstacles he's faced. For parents who are going through the NICU experience at the moment ... it might be a good story to hear.
I feel like we should do something to commemorate Sandy, just our little family, but I haven't given it much thought. I don't have time! I didn't realize how hard it was going to be to have two! [laughs]
But the storm was a big parenting moment for me, because it felt like a change. Up until that point, I didn't really feel like a full-fledged parent, because I wasn't taking care of my son completely; I was relying on the medical professionals at the hospital. I quickly kicked into gear when the lights went out.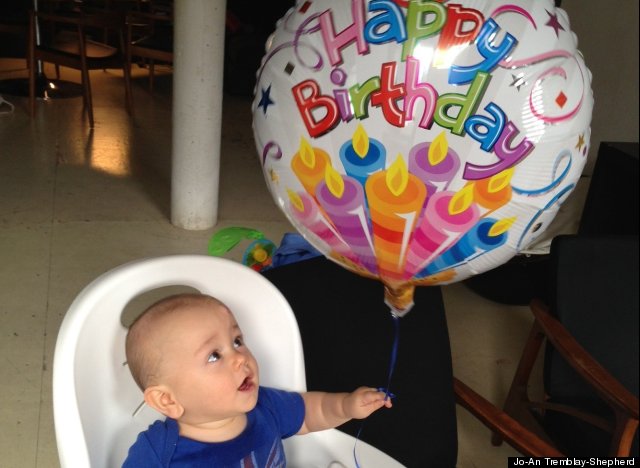 Jackson, celebrating his first birthday, in August.
This account has been edited and condensed.
PHOTO GALLERIES
Staten Island Post-Sandy