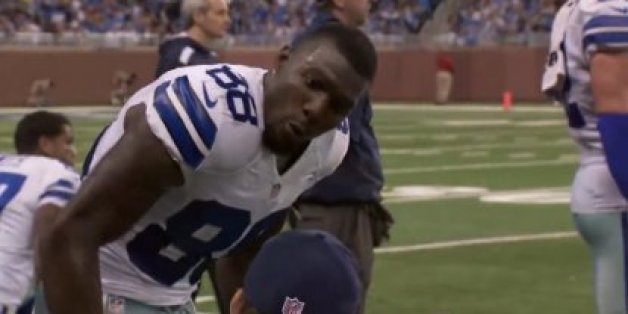 After a pair of sideline shouting matches drew unwanted attention during the Dallas Cowboys' loss to the Detroit Lions on Sunday, Dez Bryant insisted that his "passion is always positive." Audio released by NFL.com on Monday backed up that assertion, revealing that at least one of his outbursts contained more positivity than it seemed.
"We good on that, Tony," Bryant screamed at Cowboys quarterback Tony Romo during an emotional and profane moment on the sideline during the third quarter. "We the best in the NFL on that. We the best in the NFL."
Asked about his two heated sideline confrontations with teammates after the last-minute defeat, Bryant defended his behavior.
"It's always positive. It's going to remain the same way. I'm not saying anything wrong. I'm not saying anything bad. It's all positive. That's just what it is," Bryant told Tim MacMahon of ESPNDallas.com. "I'm the nicest person off the field. When I'm on the field, even when I look angry, it's still all good passion. It's all good passion. I feel like that's what we need. I'm going to remain the same way."
Although his rant with Romo doesn't sound as bad as it initially looked, the audio for his animated discussion with tight end Jason Witten has yet to be released.
(GIF via BuzzFeed Sports)
RELATED ON HUFFPOST:
PHOTO GALLERIES
PHOTOS: NFL Week 8