 The NBA revolves around its superstars, so naturally when a team acquires one, the common assumption is that he will make them significantly better and possibly a title contender. This is certainly the assumption in the case of Dwight Howard and the Houston Rockets, which now boasts two legitimate top 10 players between Howard and scorer extraordinaire James Harden.
This summer GM Daryl Morey made a bold move and secured the 27-year-old Howard with a four-year maximum deal worth $88 million. Not only is it extremely rare to acquire a superstar in his prime, but Morey didn't have to sacrifice any of his core players. In addition to Harden, who is young enough to have major growth potential, Morey also has the promising Terrence Jones. Rounding out the bench is the young and versatile stretch forward Chandler Parsons, who averaged nearly 16 points a game last season.
From an offensive standpoint, the Rockets are a lethal matchup that can beat teams in several different ways -- if Howard improves on his sub-45 percent shooting on post moves (per Synergy) and if he's willing to play pick-and-roll.
But the franchise doesn't have to look too far back into its history to realize that simply adding a player like Howard doesn't necessarily guarantee success. When it paired elite scorer Tracy McGrady with big man Yao Ming, the duo helped them to win 50-plus games in back-to-back seasons, but the Rockets failed to get out of the first round both times.
Howard and Harden may better complement one another than Yao and McGrady, and they have the benefit of a more talented supporting cast. Harden is a terrific pick-and-roll guy (fifth in points per possession last year, per Synergy Sports) and is a superior passer. But while Howard brings his athleticism and strength to a team that needs those qualities, the Rockets still have their faults and may not rise to the status of true contender.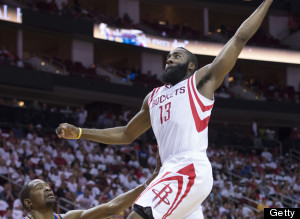 James Harden can score, but he ranks a woeful 73rd and 296th defensively in isolation and spot-up situations, respectively, per Synergy. (Getty Images)
The team's weaknesses remain on the defensive end of the floor. On paper, adding Howard instantly improves a team that ranked 28th in points against last year. But his arrival could mean that reserve center Omer Asik, who had a solid season a year ago, finds himself coming off the bench more often. Head coach Kevin McHale can experiment playing the two bigs together, but more likely will use Asik to spell Howard when teams zone up. Asik's willingness to play a reduced role could be critical as he too is an imposing shot-blocker and sound rebounder.
And adding Howard to the mix doesn't address the numerous issues elsewhere. In defensive transition, only five teams -- all in the lottery -- were worse last year. And the team's biggest defensive issue is on the perimeter. Harden, for all his offensive prowess, played a brutally poor season defensively last year, ranking 73rd and 296th, respectively, in isolation and spot-up situations (per Synergy). Point guard Jeremy Lin struggled to contain dribble penetration, and Patrick Beverley (11.8 points and 5.5 rebounds in the playoffs) is a hounding on-ball defender and a consistent 3-point shooter, but is not as adept at screen-and-roll. How McHale divides their minutes could be critical in determining the fate of this team.
The bottom line is that while Howard, a three-time Defensive Player of the Year, upgrades Houston's defense, it's hard to say just how much. Just as Howard's presence didn't solve LA's perimeter deficiencies, it would be premature to assume he can solve Houston's.
For more NBA 2013, check out the Western Conference preview and the NBA Rookies preview.
Email me at jordan.schultz@huffingtonpost.com or ask me questions about anything sports-related at @Schultz_Report. Also, be sure and catch my NBC Sports Radio show, Kup and Schultz, which airs Sunday mornings from 9-12 ET, right here.