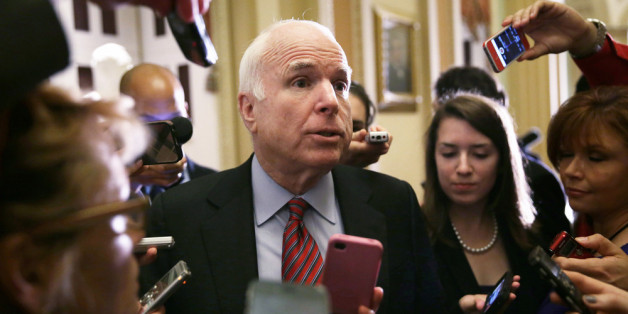 WASHINGTON -- Congressional intelligence committees have failed to do their jobs and should be replaced by a new select committee to investigate the mushrooming scandals around the National Security Agency's spying, Sen. John McCain (R-Ariz.) charged Tuesday.
McCain's remarks were in reaction to news that Senate Intelligence Committee Chair Sen. Dianne Feinstein (D-Calif.) was demanding a "thorough review" of America's espionage apparatus after reports that the NSA was responsible for eavesdropping on leaders of foreign countries that are allies of the United States.
Feinstein said in a harsh statement Monday that intelligence officials had never briefed her committee on such activities, and that even President Barack Obama did not know of them. She wants to beef up intelligence committee staff and sift through every intelligence program the United States is carrying out.
But McCain, a member of the Armed Services Committee, was not impressed.
"I'm glad that the intelligence committee is going to have a 'thorough review,'" McCain told reporters on Capitol Hill. "Then the question is, what were you doing the last four years? What has the Intelligence Committee been doing the last four years? Aren't they supposed to be oversighting these government programs?"
He also was not swayed by Feinstein's apparent anger at being left in the dark about the surveillance of leaders.
"Is that an excuse for not having exercised your congressionally obligated oversight?" McCain said. "These things happened under the oversight of the Intelligence Committee. Intelligence committees have to bear a responsibility for this as well."
The solution, McCain said, was a new committee. "Obviously these standing committees haven't done their job. We need a select committee."
Feinstein disputed the notion that the Intelligence Committee -- and Obama -- had failed at oversight, in spite of the damage control the White House has been forced to perform in the wake of the revelations.
"You don't think to say, 'Well, is the chancellor having her data collected?'" Feinstein said Tuesday, referring to German Chancellor Angela Merkel. "[Obama] wouldn't know to ask. I wouldn't have known to ask. I don't blame the president. It's kind of the system."
Feinstein also saw no reason to form a new congressional investigative body.
"No one knew about it, so, I don't know what a select committee would do," Feinstein said. "That's what we're there to do, and what we do twice a week and many hours in between the meetings. I think we have the ability to do it. We will need additional staff."
Security officials testifying in the House of Representatives Tuesday defended the failure to inform the president and Congress by saying such details did not necessarily rise to a sufficient level of importance.
Michael McAuliff covers Congress and politics for The Huffington Post. Talk to him on Facebook.
ALSO ON HUFFPOST:
PHOTO GALLERY
BEFORE YOU GO
Politicians React To NSA Collecting Phone Records
PHOTO GALLERY
Politicians React To NSA Collecting Phone Records