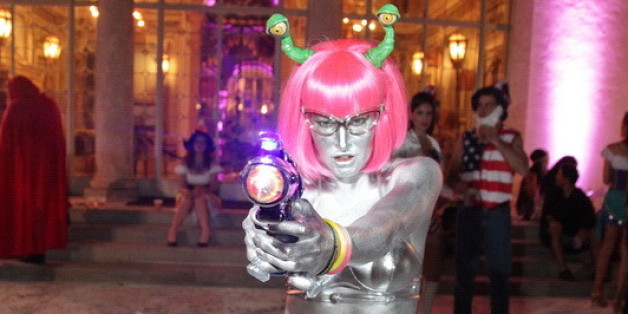 BY JIPSY, NEFARIOUSGIRL.COM
One of the most legendary Halloween parties in Miami is Vizcaya's Halloween Sundowner, which was celebrating its 27th year in 2013. The ticket price gets ghouls and boys an open bar all night, delicious food, and a chance to party in the spectacular gardens of Miami's most gorgeous historic estate. And this years' weather was nice for an October night in Miami!
On the way in, the dark path to the house is usually faintly lit here and there, scary enough to let the imagination take over -- but this year, those Vizcayans had something a little more sinister up their sleeves. Out of the dark bushes, either a zombie or a monster would quietly walk onto the path, moaning and striking fear into the hearts of arriving guests, including myself. That was great.
Some of my favorite costumes were of the homemade variety, like the sushi couple who were deliciously adorable, or silver 1960s alien chic. My personal winner was the creepy bride who found an equally creepy groom in my partner, and they made for a beautiful dead couple. As for the rest of the costumes, not so bad, Miami! Guess everyone want to save the world because countless superheroes were present. Surprisingly, there was only one Miley Cyrus and Robin Thicke and I still can't get past the fact that he looks like Beetlejuice.
Finally, the medieval vampires were to die for as they ran around hissing and laughing evily in the shadows of the gardens.

Happy Halloween, Miami. -- Jipsy
PHOTO GALLERIES
Vizcaya Halloween Sundowner 2013