This article is the sixth in a six-part series about the drug war and police reform. Read Part 5 here.
In November 2011, a homeless man estimated to be in his 40s was found dead in a tent at the Occupy encampment in Salt Lake City's Pioneer Park. He died from a mix of a drug overdose and carbon monoxide poisoning from a portable heater. The incident prompted city officials to determine that it was no longer safe for the protesters to camp in the park overnight.
Salt Lake City Police Chief Chris Burbank, 46, was in charge of the eviction. But Burbank took a decidedly different approach from his counterparts in other cities who used aggressive, confrontational measures to oust their own Occupy encampments.
Burbank showed up at the camp and talked to the protesters, in some cases one on one. He explained that they'd need to start leaving the park at night, although they could come back during the day. He said that when the time came for them leave, they could do so peacefully, or they could choose to be arrested. He even asked them how they'd like their arrests to take place, in case they wanted the TV and newspaper cameras to photograph them giving themselves up for their cause.
Unconventional has been Burbank's modus operandi since he was appointed chief of police in 2006. Be it the drug war, immigration, or the handling of protests, Burbank's mantra to his officers is the same: Use the minimum amount of force necessary to resolve the situation. Or as Burbank puts it, "It's not can I do it, but should I do it?"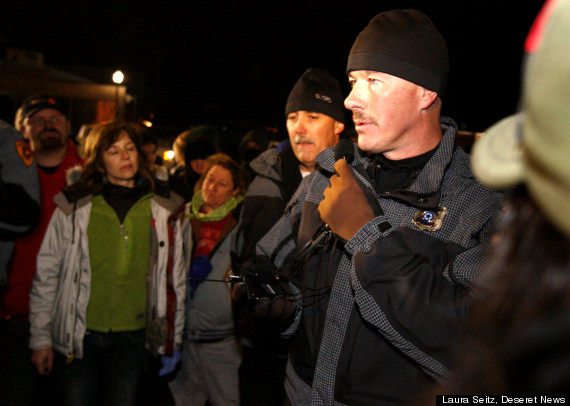 Salt Lake City Police Chief Chris Burbank speaks to Occupy Salt Lake protesters at Pioneer Park on Nov. 12, 2011
When it came time to evict the Occupy protesters in Pioneer Park, then, Burbank and his officers wore their standard, everyday uniforms, not riot gear, as police units in other cities had. Burbank also made sure he was first on the scene -- that the first person the protesters saw was the one with whom they had already had a conversation.
Most of the 200 protesters left voluntarily. Some took advantage of Burbank's offer to have his officers help with their belongings. Nineteen chose to be arrested. There was no violence, no rioting and little anger. And so as images of violent clashes between Occupiers and police in other cities made headlines across the country, in Utah, some Occupiers even praised Burbank for the way he had handled their eviction. It's one reason why the Salt Lake Tribune named Burbank its 2011 "Utahn of the Year."
"I just don't like the riot gear," Burbank says. "Some say not using it exposes my officers to a little bit more risk. That could be, but risk is part of the job. I'm just convinced that when we don riot gear, it says 'throw rocks and bottles at us.' It invites confrontation. Two-way communication and cooperation are what's important. If one side overreacts, then it all falls apart."
Burbank also dismisses the idea that his approach could only work in a smaller city like Salt Lake. "I think it should be applied everywhere. That's exactly how we as a nation should approach these events. We should approach it asking, 'How can we best facilitate these people's free speech?' Putting them nine miles away from whatever they're protesting doesn't allow them to get their message across.
"Doing it this way takes extra time, and sometimes you take a little criticism from your officers," he says. "But if my officers feel unsafe, that's when it's my responsibility as chief to show up personally."
The path Burbank took to his position is as unconventional as his approach. Policing is often a family tradition, sometimes spanning several generations, but Burbank wasn't born into a family of cops. His parents were both ballet dancers, and his grandparents were in the theater. He traveled world with both.
"I think that has been the single biggest influence on how I approach my job," he says. "The diversity that my parents and grandparents exposed me to was really important. They had friends of all races, friends who spoke different languages, gay and lesbian friends. I was exposed to different cultures and people of different nationalities at an early age. And that often meant staying in their homes."
While staying with a Muslim family in Pakistan as a teen, Burbank learned to play squash. He toured as a professional squash player for seven years and was one of the top ranked players in the world before he finally decided to become a police officer.
"I had a family to support. Professional squash isn't the most reliable way to make a living," he says. He joined the Salt Lake Police Department in 1991, then rose through the ranks until he was appointed chief in 2006.
Burbank has won praise -- and some scorn -- for his positions on various issues, including on immigration. He vocally opposes using local and state police to enforce immigration law, and in fact has barred his own officers from questioning Salt Lake residents about their immigration status. In testimony before Congress in 2010 (PDF), Burbank explained that it's impossible for police officers to look for and detain possibly undocumented immigrants without the use of racial profiling, and without subjecting Latinos who are U.S. citizens to unnecessary harassment.
Last July, Burbank weighed in on the issue of police militarization during an interview with the Deseret News. He said he worried that police were becoming too aggressive and too willing to use force.
"We're not the military," Burbank said at the time. "Nor should we look like an invading force coming in."
His comments came as editorial boards, columnists, and readers were still weighing in on a deadly police raid on the home of Matthew David Stewart, the death of Danielle Willard at the hands of two police officers and a scandal within the West Valley narcotics unit.
"It's unfortunate that an officer was killed," Burbank says of the Stewart raid. "But we need to take a look at their approach. Could we do it a better way? It should never be the goal to write a no-knock warrant. As police officers, our goal should always be to use the lowest possible level of force to fulfill our responsibilities. In a case like that, I don't know why you can't wait and just stop them as they walk out the front door."
Since the Stewart raid, a group of reformers have been pushing for legislation that would limit the use of forced-entry raids. Burbank said that he's gradually implementing a similar approach in Salt Lake City.
"I spent eight years on the SWAT team. I've served hundreds of no-knock warrants. I know firsthand how it all operates," he says. "I also know firsthand that there are better alternatives. Too often we start with the highest level of force. We should always start at the lowest level. If the police show up and the situation deteriorates, then that's our fault. We haven't done our job right. I think we get too caught up in the whole officer safety thing. The danger you expose everyone to in these raids is significant."
Burbank points to an incident in January in which police and federal officials were pursuing two women suspected in a string of bank robberies. One of the women, Kelly Fay Simons, was apprehended by the Joint Criminal Apprehension Team, a fugitive task force made up of U.S. Marshals and cops from law enforcement agencies around the area. Simons was killed when, according to officers on the JCAT team, she drove her truck at them.
Burbank had recently pulled his department out of the JCAT program because he believed the team's tactics were too aggressive. The day after Simons' death, Burbank's own officers located her accomplice, Sandra Chotia-Thompson, and convinced her to turn herself in without incident.
"Again," Burbank says, "we should be asking, what's the least amount of force we can get away with here, and still be safe?"
As for the service of drug warrants, Burbank rejects the conventional wisdom held by so many police departments around the country that aggressive raids make the process safer for everyone. He says the goal in drug investigations should be about improving quality of life and making neighborhoods safe, not necessarily making arrests and racking up convictions.
"Let's say you have neighbors complaining about a drug house on the corner," he says. "They don't feel safe. It's a menace. Now, you could do a long investigation, culminating in a big raid. But in the meantime, the neighbors still have to live with the menace. Why not just send two uniformed cops to the house that same afternoon? They knock. They say, 'Hey. Knock it off.' The drug dealers pick up and leave. No guns drawn, no raid. Which approach will have a more immediate effect on the neighborhood?"
He adds that the latter approach is also less likely to get someone killed -- whether a cop, a drug suspect or a bystander.
Burbank worries that police today get too much training in how to use different types of force, but too little training in conflict resolution.
"I have two goals in policing. First, we need to humanize our police forces. We aren't an occupying force. We are a part of the community. And we need to understand that to do our jobs, we sometimes need to expose ourselves to a little bit of risk. Otherwise we end up doing our jobs out of paranoia, not out of dignity and respect for the community," he says.
"Second, no bias in what we do. We need to recognize that we have emotions, and learn to dial that back a little bit. One of the most important traits in a good police officer is empathy."
HuffPost writer and investigative reporter Radley Balko is the author of the new book Rise of the Warrior Cop: The Militarization of America's Police Forces.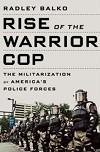 Also on HuffPost:
Loading Slideshow
"Young L.A. Girl Slain; Body Slashed in Two" -L.A.'s Daily News

On January 15, 1947, the remains of Elizabeth Short, were found in a vacant lot in Los Angeles. What made this discovery the stuff of tabloid sensation, however, was the Glasgow smile left on the aspiring actress' face--made with 3-inch slashes on each side. This, coupled with Short's dark hair, fair complexion and reputation for sporting a dahlia in her hair, dubbed her "The Black Dahlia" in headlines. What followed was a media circus filled with rumors and speculation about the promiscuous 22-year-old's checkered past. What haunts theorists to this day, apart from the victim's uniquely nightmarish visage, is that the case remains unsolved after some 200 suspects were interviewed and ultimately released--making it one of Hollywood's most lurid legends.

"I Am Not Guilty - Thus Lizzie Borden Pleads Before Judge Hammond at New Bedford." -Boston Journal

<em>"Lizzie Borden took an axe And gave her mother forty whacks. And when she saw what she had done, She gave her father forty-one."</em> So goes the lurid nursery rhyme to one of the most mystifying crimes of the century. The nature of the deaths of Andrew J. Borden and his wife, Abby, are trumped only by the identity of the alleged perpetrator: their daughter, Lizzie. Inexplicably found "not guilty" in contrast to the era's zeitgeist of swift justice, Lizzie's legacy--guilty or not--has become immortalized as one of the most perplexing cases of parricide in history.

"Texas Mother Charged with Killing Her 5 Children" -CNN

In a case of mother-gone-mad that startled a nation, Andrea Yates, to her few friends and neighbors, was known as a mere recluse suffering from postpartum depression leading up to the birth of her fifth child. That all changed on June 20, 2001, when she snapped, drowning five of her children in their home's bathtub. She was convicted in 2002 of capital murder, carrying a sentence of life in prison with possible parole. As of July 2006, however, a Texas jury found her not guilty by reason of insanity.

"Buttafuoco Admits to Sex with Amy Fisher" -New York Times

Known as the "Long Island Lolita," Fisher became involved with Joey Buttafuoco in May of 1991. Shortly after the two began a sexual relationship (she, 16, while he, 35, was married with two children), his presence and influence in her life became all she cared for. In what he's since denied to this day, Buttafuoco would go on to help an obsessive Fisher plan the murder of his wife, culminating in Fisher putting a bullet in Mary Jo Buttafuoco's head, but failing to kill her. In the highly publicized trial that ensued, Fisher accepted a plea deal for 15 years in prison in exchange for a testimony against Joey, who faced and served out charges of statutory rape.

"Murder of a Little Beauty" -People Magazine

With a face that graced the covers of nearly every news and gossip rag during the winter of '96, it's hard to suggest the death of child beauty pageant queen JonBenét Ramsey had little effect outside the city of Boulder, Colorado. Found dead from a blow to the head and strangulation in the family's basement, coupled with a ransom note left on the staircase asking for $118,000 (conveniently or coincidentally, nearly the same amount Mr. Ramsey received as a bonus that year), as well as no obvious signs of forced entry into the house, the evidence was overwhelmingly stacked against parents John and Patsy, who managed to maintain their innocence throughout the investigation. The case reopened in 2010, but critics cite poor handling of the crime scene as obstructing what remains a mystery regarding the events of that Christmas day.

"F.B.I. Joins Probe in Slaughter of 8 Nurses" -Nashua Telegraph

Tattooed with "Born to Raise Hell" on his arm, Richard Speck made good on his mantra through a history of violence, theft, alcoholism, and spousal abuse, but made his infamy known to all when, on July 13, 1966, he walked into a dormitory armed with a knife. After leaving 8 student nurses dead in his wake, only one, Cora Amurao, was spared--hiding under a bed until 6 a.m. Speck was found guilty of murder and died of a heart attack in prison. As one of the most press-worthy crimes of the decade, the grim events were used most recently as the backdrop for an episode of <em>Mad Men</em>.

"Sharon Tate, Four Others Murdered" -Los Angeles Times

Perhaps the most terrifying figure in American crime to have never actually killed anyone himself, Charles Manson founded a "family" of wayward individuals who hailed him as a prophet. So strong was his manipulation, he ordered, on the night of Aug. 8, 1969, four of his followers to kill everyone at the residence of 10050 Cielo Drive--including Roman Polanski's wife, Sharon Tate, and her unborn child. Tate was stabbed 16 times, and her blood was used to write "pig" on the house's front door. The next night, Manson accompanied six of his family to the residence of supermarket executive Leno LaBianca and his wife, only to help bind them before ordering their deaths. In 1971, Manson and three of his fellow defendants were found guilty of murder in the first-degree and several other crimes. At the time, it was the longest murder trial in American history, spanning nine and a half months, as well as the most expensive, estimating $1 million. Manson was denied parole for the 12th time in April 2012.

"Lindbergh Baby Kidnapped from Home of Parents on Farm Near Princeton; Taken from His Crib; Wide Search on" -The New York Times

Used as the basis for an Agatha Christie novel (<em>Murder on the Orient Express</em>) and dubbed "the biggest story since the Resurrection" by famed journalist H.L. Mencken, the kidnapping and murder of aviator Charles Lindbergh's infant son continues to fascinate theorists today. Charles Jr. was discovered missing from his second-floor bedroom on March 1, 1932, along with a note demanding a then-unimaginable $50,000, igniting a media frenzy like no other. The tabloid pandemonium prompted many tips and leads, but none as concrete as a package containing the boy's pajamas and another message demanding the ransom. After some misdirection from the presumed kidnapper, Lindbergh's child was soon after discovered in the woods along a road near the family residence. Notwithstanding the evidence stockpiled against the easily vilified illegal German immigrant Bruno Hauptmann (who was sentenced), speculation prevails as to the true identity of the caper responsible in this tragic tale of one of America's greatest heroes.

"Not Guilty as Sin" -NY Post

Still fresh in the minds of many and not to easily be forgotten, the trial of Casey Anthony turned Orlando, Florida into anything but the "happiest place on earth." Following a series of lies, misdirection and manipulation by then-22 year old Casey, Caylee's skeletal remains were found five months into the investigation, setting the stage for what could only be described as the most incessantly publicized and shocking trial in recent memory. The media had a field day that went on for months: Highlighting the young, pretty, party girl image used against her in court as the prosecution tore apart an aimless defense--or so it seemed. After resorting to throwing her family under the bus, incriminating people entirely made-up ("Zanny the Nanny"), and fabricating elaborate stories for the police, Casey was found not guilty of murder due to evidence deemed mostly circumstantial and not meeting the burden of "beyond reasonable doubt," inciting much debate regarding whether true justice was served.

"An American Tragedy" -TIME

Known and heralded as the "trial of the century," former football star and actor O.J. Simpson found himself in the middle of the nation's biggest, most-televised trial following the deaths of his ex-wife Nicole Brown Simpson and her friend Ron Goldman, but not before fleeing an all-points bulletin in his Ford Bronco with 20 units in tow, interrupting game 5 of the NBA Finals. By enlisting a dream team including Johnnie Cochran, Robert Shapiro, and Robert Kardashian, the defense claimed Simpson was merely a victim of police fraud with regard to contaminated DNA evidence, while famously quipping "If it [the glove] doesn't fit, you must acquit." On October 3, 1995, an estimated 100 million people from around the world tuned in to watch the jury hand down a verdict of not guilty, consequently resulting in an estimated loss of $480 million in productivity and inciting an ongoing discussion of race in the judicial system that continues to this day.