 The polls aren't herding in Virginia, though McAuliffe still leads on all them. We take a closer look. A new Boston poll shows a new leader. And yes, Virginia, you will have an exit poll. This is HuffPollster for Wednesday, October 30, 2013.
TWO VIRGINIA POLLS, TWO RESULTS - HuffPollster: "Two respected polls have produced conflicting stories about the standings in Virginia's race for governor. With less than a week to go before the election, Democrat Terry McAuliffe either has a 'substantial' advantage over Republican Attorney General Ken Cuccinelli or is 'clinging' to a narrow lead. A new Quinnipiac University poll released Tuesday morning found McAuliffe with a 4 percentage point lead (45 to 41 percent)* over Cuccinelli among likely voters. Libertarian party candidate Robert Sarvis had 9 percent and 4 percent were undecided. In a release, Quinnipiac pollster Peter Brown characterized the new result as Cuccinelli 'nipping at Terry McAuliffe's heels.' A previous Quinnipiac survey conducted in mid-October gave the Democrat a slightly larger (7 point) lead. But on Monday, a new Washington Post/SBRI poll gave McAuliffe a twelve percentage point lead (51 to 39 percent) over Cuccinelli among likely voters, with Sarvis at 8 percent and just 1 percent undecided. The Post characterized McAuliffe's lead as 'substantial' and fueled by a 'rapid deterioration in the national Republican Party's image among Virginians.'...The discrepancy between the two surveys may result from the manner in which they selected likely voters. Among the broader population of all registered voters, the Post survey found a narrower, six-point McAuliffe lead (45 to 39 percent) that closely resembles the Quinnipiac result. Quinnipiac did not release results for all registered voters." [HuffPost, Quinnipiac, WaPost]
Post's take: big differences in party ID - Scott Clement and Ben Pershing: "The chief difference between the surveys was the share of likely voters that identified themselves as Democrats, Republicans and independents, an attitude that both polls measured by asking an identical question. In the Post poll, self-identified Democrats outnumbered Republicans by 35 to 27 percent among likely voters, while Quinnipiac found Republicans with a two-point edge in party identification, 31 to 29 percent. Previous Quinnipiac polls this fall have found Democrats with a five to eight-point edge on identification among likely voters; a September Post poll found Democrats with a seven-point edge. Because neither poll weighted to match a pre-determined partisan composition of voters - a controversial practice among pollsters - the difference reflects a basic divergence in the two surveys' samples of likely voters in the state. In Virginia, the partisan makeup of voters in recent elections has varied substantially across elections." [WaPost]
But Wednesday also brought four more Virginia surveys - These included live interviewer surveys (reaching landline and cell phones) by Roanoke College and Hampton University, an automated telephone survey conducted by Rasmussen Reports and an online Zogby/Newsmax survey. Altogether, this week's new polls produced McAuliffe leads ranging from 4 to 15 percentage points, with undecided percentages ranging from 1 to 18 percentage points. But regardless of the methods used and the nature of the likely voters, the common denominator is that McAuliffe led on all six. In fact, McAuliffe has led nominally in 32 consecutive polls of Virginia voters released since July. [Hampton, Newsmax, Rasmussen, Roanoke]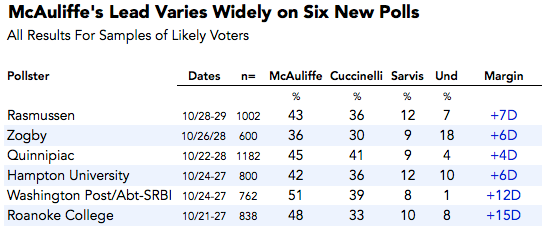 Pollster Model - The Pollster poll tracking model estimates a nearly eight percentage point lead for McAuliffe over Cuccinelli (44.0 to 36.4 percent) with Sarvis moving up to 10.6 percent, as of this writing. The McAuliffe trend line now shows a slight decline over the last week (from 45.4 to 44.0 percent) although the change is not big enough to be considered statistically significant (it falls well within the 95 percent confidence intervals plotted on the chart). [Pollster]
Our take - The wide variance in the results is not particularly surprising given that hard to predict voter turnout patterns of an off-year election. The political environment of the last month adds another complication. The combination of the government shutdown and McAuliffe's reportedly fast growing advantage in paid advertising may have increased enthusiasm among Virginia Democrats, depressed it among Republicans or both. The way polls measure and account for self-reported enthusiasm in selecting likely voters may explain their current variation, but the bigger issue is how well these attitudes will predict next week's turnout. That we may not know until Tuesday night.
Silver lining for polling nerds? - One happy consequence of this unusual confluence of events is that Gallup is currently conducting experimental surveys and voter validation studies aimed at the Virginia election. Gallup isn't publishing Virginia survey data as they collect it, but rather will release findings long after the election when their analysis is complete (most likely in 2014). We will need to be patient, but many of the questions being raised by today's highly variant Virginia data may yield unusually definitive answers.
'THERE WILL BE EXIT POLLS' - Joe Lenski of Edison Research, the company that has conducted exit polls for the five networks and AP since 2004: "FYI - there will be Edison exit polls for New Jersey, Virginia and New York City next Tuesday." [@JoeLenski]
BOSTON: UMASS POLL FINDS WALSH TAKING THE LEAD - From the release: "The results of a new UMass Poll released today by the University of Massachusetts Amherst shows state Rep. Martin J. Walsh with a seven-point lead over Boston City Councilor at Large John R. Connolly among registered Boston voters in advance of the Boston mayoral election on Nov. 5. The UMass Poll confirms that voter support has swung from Connolly to Walsh in the final days of the campaign. With leaners included, likely voters prefer Walsh over Connolly 47 percent to 40 percent, a lead that is outside the 5.9 percent margin of error for the poll. With less than a week to go in the campaign, 13 percent of likely voters remain undecided." [UMass]
A telephone poll from YouGov? - The UMass/Amherst poll usually conducts online surveys of Massachusetts voters using YouGov's opt-in internet panel, but in this case the release indicates that YouGov conducted the survey was conducted by telephone using a sample drawn "from the city of Boston list of registered voters." Via their Twitter account, the UMass/Amhert pollsters explained that there was "no way to do a good internet poll in jurisdiction the size of Boston." [@UMassPoll]
And we are true poll nerds, aren't we? - MassLive pollster Steve Koczela: "For true poll nerds, let's note that this makes 4 of 6 public polls in BOSMayor using RBS [samples drawn from voter lists] rather than RDD. (MPG, Suffolk, Sage, UM-A)." [@SKoczela]
NBC/WSJ FINDS SPLIT ON ACA WOES - Mark Murray, In a tease of further results due at 6:30 p.m. Wednesday: "Americans are divided about whether the problems associated with the health-care law's federal website are a short-term issue than can be solved, or a long-term issue that signals deeper troubles, according to a new NBC News/Wall Street Journal poll. Thirty-seven percent of respondents say that the website woes are a short-term technical problem that can be fixed, while 31 percent believe they point to a longer-term issue with the law's design that can't be corrected. Another 30 percent think it's too soon to say." [NBC News]
DEM POLL FINDS SURGE IN ANTI-INCUMBENT SENTIMENT - Stan Greenberg, James Carville and Erica Seifert (D): "The most recent Democracy Corps Congressional Battleground survey, fielded just two days after Congress ended the government shutdown, reveals a nation angry with Washington, the country's direction, and congressional incumbents. While voters withhold anger for no party or person in Washington, Speaker Boehner and the Republican Congress are at the center and have taken the hardest hits from voters. While the actual named vote for Congress has not yet moved, everything else has moved against the Republican members." [Democracy Corps]
HUFFPOLLSTER VIA EMAIL! - You can receive this daily update every weekday via email! Just enter your email address in the box on the upper right corner of this page, and click "sign up." That's all there is to it (and you can unsubscribe anytime).
WEDNESDAY'S 'OUTLIERS' - Links to more news at the intersection of polling, politics and political data:
-Gallup finds little change in approval of the health care law. [Gallup]
-Lindsey Graham's approval rating tumbles among Republicans in South Carolina. [Winthrop]
-David Hill (R) ponders why record low "right direction" scores don't lead to regime change. [The HIll]
-Mark Mellman (D) surveys the shutdown wreckage for the GOP. [The Hill]
-Harry Enten examines the 2013 races for signs that the shutdown might affect the 2014 elections. [Guardian]
-Economists find that few people know all the answers to a quiz about health care. [NPR]
-Pollster Fred Steeper (R) urges Republicans to "throw in the towel on the immigration issue" and "stop pandering" to racism. [Political Wire]
-Bill de Blasio is still way ahead in the NYC mayoral race, although voters are split on whether he can keep his promises. [Quinnipiac]
-Trust in government sinks to a new lows...in Southern Europe. [Gallup]
-Watch a replay of the Simply Statistics unconference on the future of stats. [Simply Statistics]
CORRECTION: A previous version of this story said that Pew Research was conducting an experimental survey in Virginia. Via email, Scott Keeter, Director of Survey Research for the Pew Research Center, informs HuffPollster that although they had "hoped to be able do some Virginia polling this fall to provide additional evidence for our project to validate our likely voter models, we ultimately decided not to pursue it."

ALSO ON HUFFPOST:
PHOTO GALLERIES
United States Governors