Why did the vampire cross the street?
Because it wanted to make sure small children could get to the other side! But don't worry parents, this isn't the start to some gruesome joke -- this is a friendly, daytime vampire. In fact, he's a police sergeant dressed up as a vampire to promote traffic safety for Halloween.
The Lakewood Police Department in Colorado calls it "Operation Transylvania." On Wednesday morning, officers donned vampire costumes and spent time patrolling the crosswalks during the foggy morning traffic rush to make sure drivers yielded to pedestrians, small children and the Count.
ABC News reports that twice as many kids can be killed while crossing the street on Halloween than on any other time of the year.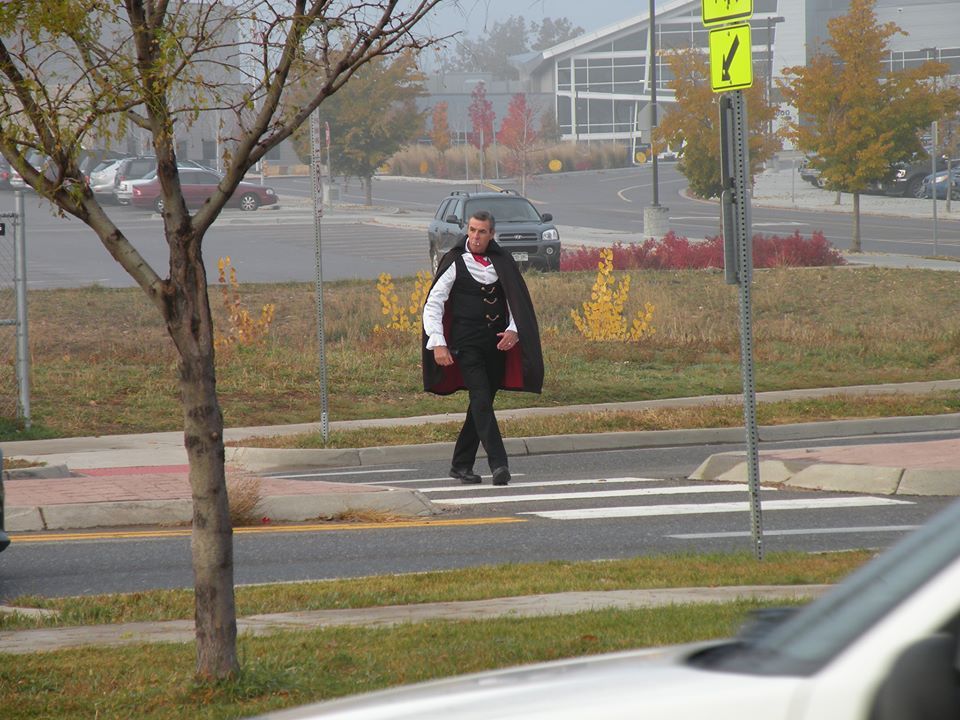 This morning members of the Lakewood Police Traffic Team were working Operation Transylvania at crosswalks in their city. Pictured here is Sgt. John Romaniec also known as Count Dracula. As he crossed in crosswalks, traffic officers monitored traffic to see if cars would yield to the Count, if not they were reminded of their obligation to do so. Drivers were given warnings. The operation was conducted at this time of year to remind us that many children will be out in the dark crossing streets tomorrow evening. If motorists did not see the 6' 4" Sgt. they were asked to think about how difficult it would be to see a small child.
According to a report by 9News, the idea was inspired by a tactic used by the sheriff's department in Riverside, Calif. earlier this year. The department dressed up a sheriff's deputy as a 7-foot tall gingerbread man and had him patrolling the crosswalk in front of an elementary school in Moreno Valley for an hour.
"Our concern is if they can't see a 7-foot Gingerbread Man, then how are they going to see their son or daughter that is only 5 feet tall walking through a crosswalk?" Riverside County Sheriff's Department Sgt. Bill Guimont told UPI News.
Also on HuffPost:
Costumes For Mighty Girls
SUBSCRIBE TO & FOLLOW PARENTS
Get top stories and blog posts emailed to me each day. Newsletters may offer personalized content or advertisements. Learn more