Santa Barbara -- the land of bikini-clad college students, beachside Mexican food, and, apparently, hidden French Romantic masterpieces.
According to the L.A. Times, a previously unknown painting was identified there, standing out as the possible handiwork of Eugene Delacroix, an artist best known for "Liberty Leading the People" and "Death of Sardanapalus."
The painting in question is "The Last Words of Marcus Aurelius," which depicts the stoic philosopher in a sickly state, his pale body surrounded by his successor son and other followers.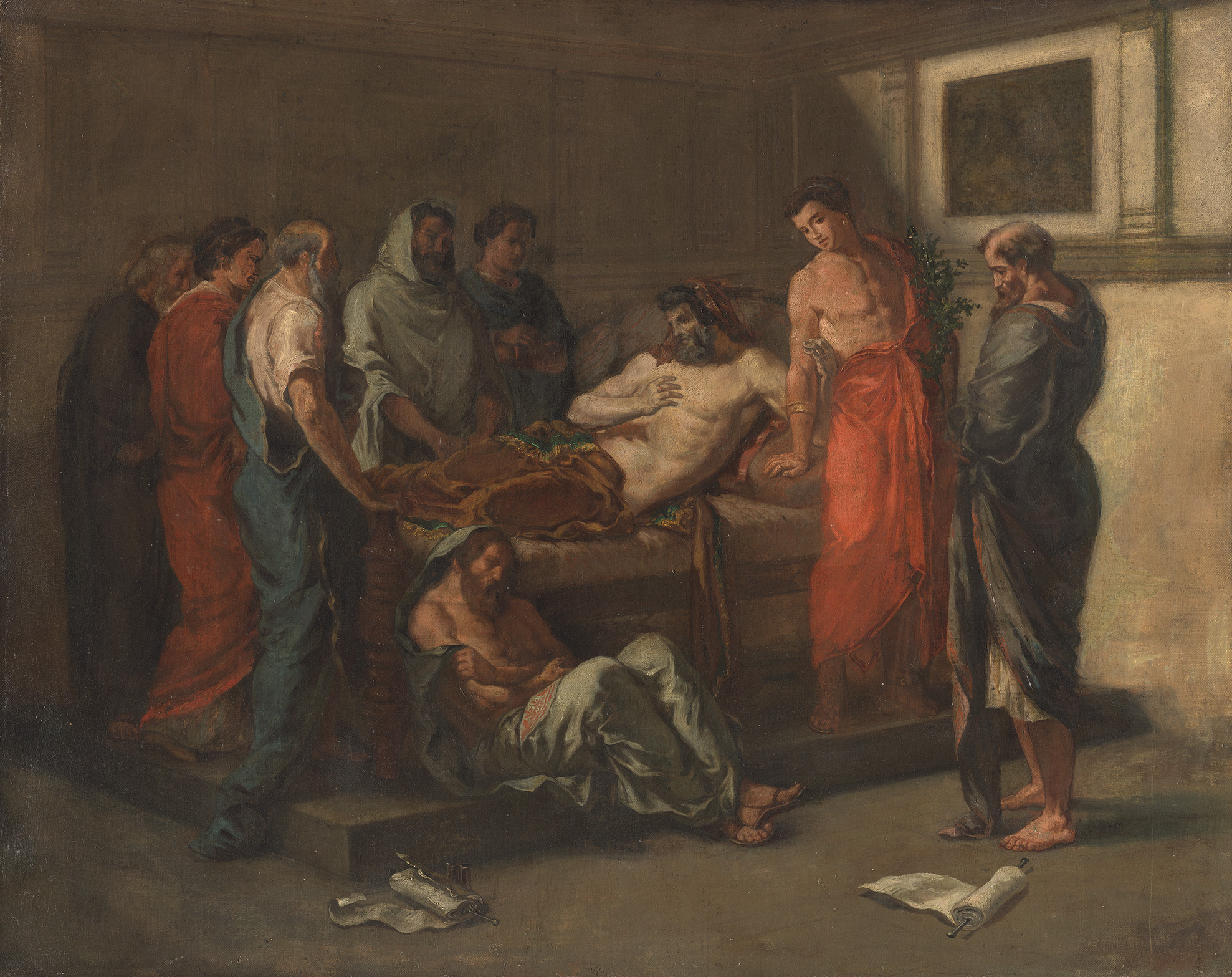 Eugène Delacroix, The Last Words of Marcus Aurelius, n.d. Oil on canvas, 25 5/8 x 31 3/4 in. The van Asch van Wyck Trust.
The work, a version of an iconic Delacroix canvas housed in the Museum of Fine Arts in Lyon, France, originally appeared in a private collection by the name of the Van Asch van Wyck Trust before curator Eik Kahng discovered the hidden gem and relocated it to the Santa Barbara Museum of Art. So, how did a Delacroix manage to go unnoticed until then?
"The lack of signature on the painting is not uncommon among works by Delacroix," Kahng explained to the Santa Ynes Valley News. "The artist often retained cherished paintings in his studio, keeping them for future reference or to give to friends as gifts."
Kahng remains confident in the painting's validity, enough to include it in an intimate Delacroix exhibition at the Santa Barbara Museum, entitled "Delacroix and the Matter of Finish," that toys with various interpretations of the word "finish."
Kahng explained her excitement over the impressive art find in an email to the Huffington Post.
"There is no better reward for a curator than that rare occasion when a complete stranger calls you up and tells you about a fantastic work of art that actually turns out to be authentic. When I saw this painting for the first time, I had a gut feeling that it had to be the real thing. The longer I studied it, the more I began to appreciate the subtle complexity of the brushwork and intermingling of hues. It's been a great joy to have this work of art in my life and even a greater thrill to see it surrounded by autograph works and see how well it stands up to the test."
Only time will tell what other Delacroix scholars think of the 19th century work. In the meantime, it's worth taking a moment to look back on the year's best dramatic discoveries, from this James Turrell in a beach house to a Rene Magritte hidden in plain sight. See more jealousy-inducing finds in the slideshow below.
The Most Dramatic Art Finds Of 2012
Jane Cordery, an art teacher in Hampshire, England, discovered this detailed bird portrait in her attic after attempting to clean the space for a plumber. She e-mailed a photograph of the find to Christie's, where "The White Owl," was identified as the work of pre-Raphaelite artist William James Webbe, and valued at £70,000, or $113,449.

A lost painting by Leonardo da Vinci may have turned up in a Scottish farmhouse owned by a family of non-collectors, named the McLarens. The discovered portrait, which should be officially dated by next year, bears telltale hairlines, shoulders, toes, and a hidden fleur-de-lys that point to Da Vinci, as well as a likeness to a traced figure in the "Last Supper." If the farmhouse find is indeed a 500-year-old original, it is may be worth over $150 million.

A mysterious donor dropped off a signed etching by Surrealist master Salvador Dali at a Goodwill in Tacoma, Washington this year, where an art-savvy employee quickly identified it. It was since added to the organization's online auction system, where it sold for a bargain price of $21, 005.

Here's one of those art find stories that's dramatic for the wrong reasons. Reinhold Hoffmann, a 70-year-old retiree, captured the attention of European media when his partner bought a $25 book of old stamps at a Dresden, Germany, flea market, and one of them of them looked like a one-cent stamp from 1867 potentially worth $3 million, featuring Benjamin Franklin and a rare "Z Grill" pattern. The Philatelic Foundation quickly gave Hoffman the bad news: just one of those lame F Grills, bro.

A luckier German bargain shopper stumbled across the rare book treasure of a lifetime. A consultation with the auction house Ketterer Kunst revealed that a brochure he paid €5 for, a catalog for a 1912 traveling exhibition of German expressionist Die Brücke artists, is valued at €18,000, or $23,400.

Like most unsuspecting thrifters, Beth Feeback wasn't aware of her painting's famous origins when she bought it at a North Carolina Goodwill for $9.99. In fact the artist, who specializes in portraits of cats, was just looking to upcycle an unwanted canvas for her own work. But a quick Google search of a name printed on the back of the canvas prevented her from turning the original Ilya Bolotowsky into scrap. ABC News reports that Feeback sold her abstract find for $27,000 at auction.

A woman who bought a $7 box lot at a flea market unwittingly scored a painting by Pierre-August Renoir. But don't get too jealous: "Renoir Girl," as the finder was known to the media, wasn't able to cash in her original "Paysage Bords De Seine." In a dramatic twist, the painting that launched a thousand flea market visits turned out to be stolen six decades ago from the Baltimore Museum of Art.

Pam Dwyer's purchase of a horse painting at a yard sale in Arizona turned out to be more than it seemed. On a hunch, Dwyer and her husband removed the work from the frame only to uncover a portrait of President John F. Kennedy from 1961, by the infamous forger and artist Carmelo Soraci. While the painting is proving tough to appraise, experts note that its historical significance makes it a good fit for a place like the Smithsonian.

Sometimes you just don't like a painting, no matter how "great" it is. That's how one Scottish woman felt in the early 1960s, when her husband came home with a painting of roses that she disliked enough to banish to a spare room. Let this be a lesson to those who are easily dismissive of gifts. The BBC reports that the painting in question was recently identified as "Pink Roses," an original oil work by one of Scotland's most influential artists, Samuel Peploe, valued by McTear's Auctioneers in Glasgow at £300,000. The price the obedient husband originally paid? "Not significant enough to remember," according to the unnamed seller, who is the couple's son.
"Delacroix and the Matter of Finish" will show at the Santa Barbara Museum of Art until January 26, 2014.