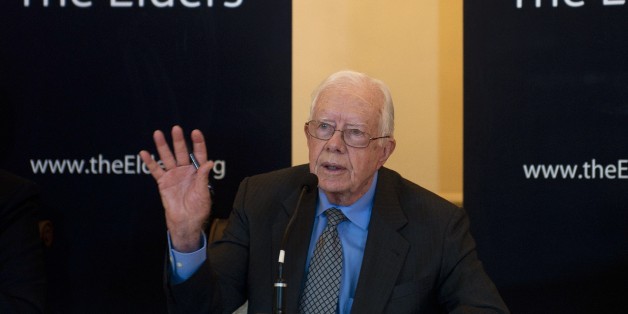 Former President Jimmy Carter has expressed early support for a potential presidential run for former Secretary of State Hillary Clinton in 2016, telling Parade in an interview published Thursday that she'll "have a good chance" for the nomination.
"Most of the Democratic candidates consult with me, at least to be polite. I tell them, 'Go ahead and run.' I use myself as an example. Nobody thought I had a chance in God's world to be the nominee," Carter said. "Obviously she'll have a good chance if she does run."
But Carter hasn't always been so supportive of Clinton. In 2008, Carter endorsed then-Sen. Barack Obama for the Democratic presidential nomination, and advised him against selecting Clinton as a running mate.
"I think it would be the worst mistake that could be made," Carter said at the time. "That would just accumulate the negative aspects of both candidates."
In his Parade interview, the 89-year-old Democrat talked about how proud he is of his grandson, James Carter IV, for uncovering the hidden camera video footage of former GOP presidential candidate Mitt Romney's infamous "47 percent" comments in 2012.
"About six months later, President Obama came to Atlanta, and another grandson, Jason, a state senator, took James over to meet the president, and Obama thanked him profusely. I was very proud," Carter said.
Carter made similar comments in February, saying he thought the video changed the presidential race.
"I think it was the pivotal moment ... It stuck with him for the rest of the election and I think it was a major factor, if not the major factor," Carter told CNN's Piers Morgan.
Carter also reflected on Washington's current policy woes in the interview with Parade, lamenting the legislative consequences of gerrymandering and the Citizens United decision that resulted in a "massive influx of money into campaigns."
"The Citizens United ruling was a terrible mistake. Now even corporations with partial ownership from overseas have an almost unlimited impact on elections," Carter said. "The country is polarized -- not only in Washington, but back home, too."
ALSO ON HUFFPOST:
PHOTO GALLERIES
Presidential Couples