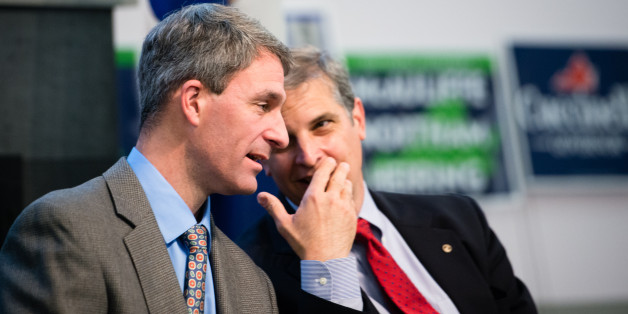 WASHINGTON -- With Virginia Republicans' staunchly anti-abortion candidates for governor and lieutenant governor trailing drastically among women in the polls, the GOP's best hope next Tuesday seems to be Mark Obenshain, the attorney general candidate who hopes to salvage some of gubernatorial contender Ken Cuccinelli's female defectors.
Obenshain is just as conservative as Cuccinelli, the current state attorney general, on women's issues. As a state senator, he supported fetal personhood legislation, voted for a bill that would have required women to undergo transvaginal ultrasounds before abortions, sponsored a bill to outlaw abortions after 20 weeks of pregnancy, and introduced legislation requiring women to report a miscarriage to the police or risk jail time.
But Obenshain has done a much better job of flying under the radar on these issues, and his race against Democrat Mark Herring looks to be a dead heat.
"I guess it will be interesting to see how many women reject Cuccinelli, but vote for Obenshain," said Kyle Kondik, managing editor of the Sabato's Crystal Ball site at the University of Virginia Center for Politics. "People don't pay as much attention to an attorney general's race as a governor's race, and Obenshain has run a superior campaign to Cuccinelli. His daughter has been in more than one of his ads, and I think he's sort of trying to stick to a script that presents him as a moderate candidate."
In addition to featuring daughter Tucker in his ads, Obenshain has been courting women voters by stressing his toughness on domestic violence and sexual predators.
"He introduced legislation protecting families from abusive spouses and requiring Virginia colleges to establish emergency alert systems," said Susan Allen, co-chair of the Women for Obenshain Coalition. "He has campaigned with integrity on issues important to women like preventing domestic violence, stopping human trafficking and combating sexual predators."
One national Republican group has been pouring money into Obenshain's campaign, in part because winning the attorney general race would put him in a much better position to run for governor in 2017.
"In Virginia, you're almost always thinking of the next race, because the guy who gets elected is out in four years," explained Kondik, referring to the state's bar on a sitting governor running for reelection.
He noted that Democrats are equally aware of this pressure. "The thing Democrats want to do is knock off Obenshain so that if he does run in 2017, he's a lot weaker," said Kondik.
In addition, whoever wins the attorney general job can play a very powerful role in shaping government policy. Cuccinelli, for example, strong-armed Virginia's Board of Health into writing stricter abortion clinic regulations, which have already forced some clinics to shut down.
The Democrats' strategy, with their own TV ads, has been to stress Obenshain's similarity to Cuccinelli in all the ways that have turned women off.
"When it comes to women's health care, Mark Obenshain will be a continuation of Ken Cuccinelli, and that's just not what voters want," said Matt Wojtkun, a spokesman for Herring's campaign.
ALSO ON HUFFPOST:
Lies GOP Tells About Women's Bodies
SUBSCRIBE TO & FOLLOW POLITICS
How will Trump's administration impact you? Learn more